Tokyo executive pulled into nuclear crisis
BIGGEST IN THE LAND: The businessman was summoned to the prime minister's office and given an emergency order authorizing him to bring onshore a huge pump truck
Watching TV images of workers frantically dousing the reactors of Japan's earthquake-wrecked nuclear power plant with water, one man realized he was uniquely placed to help out — he had on hand a truck-mounted pump bigger than any other in the land.
By Wednesday, a bright red Putzmeister pump normally used to pour concrete was towering 58m over the burnt-out remains of reactor No. 4 at the Fukushima Dai-ichi nuclear power plant, filling its spent-fuel pool with sea water at a rate of 160m3 an hour, but getting to that point in the chaotic days that followed the March 11 earthquake and tsunami was no easy matter for Hiroshi Suzuki, head of the Japan branch of a German firm that makes the behemoths.
For one thing the pump was on a ship off Tokyo in transit to a client when the disaster struck, knocking out the plant's cooling systems.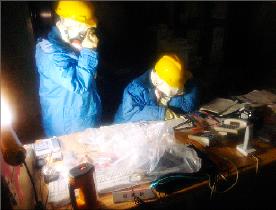 A photo from Japan's Nuclear and Industrial Safety Agency shows workers recording the status of instruments in a control room at the Fukushima Dai-ichi nuclear power plant in Tomioka, Japan, on Wednesday.
Photo: Reuters/Nuclear and Industrial Safety Agency via Kyodo
Then there was the problem of getting government permission to take it up to the nuclear facility 240km north of Tokyo as concern mounted that the plant could spew radioactive material into the atmosphere.
"I contacted the prime minister's office with information about our equipment last Tuesday [March 15], but there was no response for about two days," Suzuki said in a telephone interview. "They may have thought they could manage with their water trucks and fire trucks."
Suzuki was eventually summoned to the prime minister's office and given an emergency order allowing him to bring ashore the pump truck, which is so large it is illegal on Japanese roads in normal circumstances.
After the client was persuaded to part with the equipment, he and a colleague drove the pump north of the exclusion zone surrounding the unstable reactors, leaving Suzuki's worried Australian wife, Juliane, and two teenage children in Tokyo.
There, he trained contractors for the plant's operators to run the machine and stood by on tenterhooks until it finally cranked into action.
"Honestly speaking, I just did what was necessary, but I was relieved when I heard it was successful," he said. "We've been told it went well today and yesterday, and radiation levels have fallen."
The mission was a peculiarly personal one for Suzuki, who was born in nearby Sendai and has two relatives still unaccounted for after the March 11 disaster, which has left nearly 26,000 people dead or missing.
Coincidentally, the pump trucks were among those used to seal in the Chernobyl reactor after it exploded in Ukraine in 1986 and sightings of the truck led to media speculation that Japan was planning to do the same at the Fukushima Dai-ichi nuclear power plant.
Of course, Suzuki says, if the decision is ever made to go ahead and build a similar sarcophagus at Fukushima Dai-ichi, the Putzmeister pump can help with that too.
Comments will be moderated. Keep comments relevant to the article. Remarks containing abusive and obscene language, personal attacks of any kind or promotion will be removed and the user banned. Final decision will be at the discretion of the Taipei Times.