FEATURE: Russia's army seen switching to a new secret weapon ... inflatable tanks
DECOYS: Serbian forces also used inflatable tanks to draw fire from US jets in the 1999 conflict over Kosovo, resulting in false reporting of razed tanks
They may look like real tanks and missiles, but some of the weapons in Russia's arsenal may not all be what they seem.
Russia is making increasing use of inflatable replicas — decoys deployed in a cunning attempt to deceive potential enemies.
In a workshop in Moscow's suburb Khotkovo, employees of inflatable equipment company Rusbal sew the fabric used to create fake weapons for their main customer — the Russian army. Established in 1993, Rusbal replicates military equipment, such as T-80 tanks, S-300 missiles or fighter jets, for an undisclosed price, but also manufactures inflatable castles and other toys for children.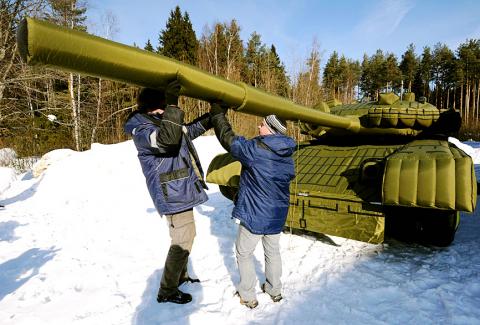 Rusbal company employees pump up an inflatable tank outside the company workshop in Khotkovo, Russia, 60km northeast of Moscow, on March 11.
Photo: AFP
"These machines are effective in deceiving the enemy and they protect the real equipment," Rusbal plant director Victor Talanov said. "This kind of technology has existed in the army for a long time, since World War II."
In another recent example, the Serbian army used similar decoys during the country's bombardment by NATO forces in 1999 and the Alliance actually destroyed fewer genuine targets than it thought.
Talanov said the idea to work for the military belonged to his father, Rusbal's CEO, who worked in the Soviet era for the military-industrial complex and later developed links with the Russian army.
"He realized that with these technologies, we can solve problems in the military field," he said.
Rusbal's proud employees said it was very difficult to distinguish a real tank from a fake one. For example, the equipment they produce has the same thermal footprint as the weapons it imitates.
"From the height of a 10-story building, if a real tank and a false one stand side by side, they make almost no difference. Our machines emit the same heat and reflect radio waves in the same way as real ones," said Lyudmila Stepanova, Rusbal's chief technology expert.
Another bonus is that they are easy to deploy — a tank inflates in minutes.
According to Rusbal, Russian technology of manufacturing fake weapons is far more innovative and developed than in other countries, such as China or Canada, which also use similar equipment.
A Russian-manufactured mock tank weighs only 90kg against 300kg for its European analogue.
"Before, we had to inflate a model and to bung it up like a mattress. Now, air is blown continuously into the tank. This allows us to use lighter materials, which inflate faster and are more resistant to cuts," Talanov said.
He has admitted having no information on how and where exactly the fake tanks are used by the military, but said he believes they are indeed used in conflict situations.
The Kremlin has vowed -repeatedly to modernize its dilapidated military, equipped with aging and obsolete equipment. Last month, Russia launched a US$650 billion rearmament plan to counter the West's military dominance by adding eight nuclear submarines and hundreds of warplanes to its creaking armed forces.
Last year, Russia announced plans to triple its defense spending to 19 trillion rubles (US$613 billion) over the next decade.
Comments will be moderated. Keep comments relevant to the article. Remarks containing abusive and obscene language, personal attacks of any kind or promotion will be removed and the user banned. Final decision will be at the discretion of the Taipei Times.