Haiti awaits Aristide's return from exile
THE DOCTOR IS IN: Twice-deposed, but still hugely popular, Jean-Bertrand Aristide was set to return after seven years in exile in South Africa, where he received a doctorate
Joy filled former Haitian president Jean-Bertrand Aristide's most ardent followers early yesterday as they waited the last few hours until the former president considered by many a champion of the poor returned from seven years of exile.
Thousands were expected to throng the airport to greet the chartered jet carrying Aristide from South Africa, where the government assisted his departure despite a request from US.
US President Barack Obama requested that the homecoming be postponed until after Haiti's presidential runoff election tomorrow.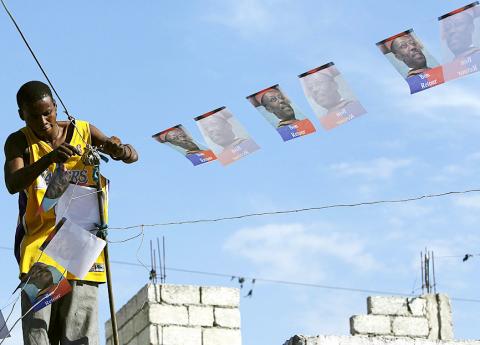 A man hangs pictures of former Haitian president Jean-Bertrand Aristide as news of his arrival spread throughout Port-au-Prince on Thursday.
Photo: Reuters
"We are going to party," said 36-year-old mechanic Assey Woy, discussing the news of the ousted leader's return with friends on a street corner downtown. "It will be like New Year's Day."
Energy spread through Aristide's followers on Thursday as word spread across Haiti that he was heading back home. Some joined in a raucous, horn-blaring victory procession. Others decorated the courtyard of his foundation headquarters with Haitian flags and photos of the former president. One woman waited with a bouquet of flowers.
"We just want to see him," 30-year-old Lesley Jean-Giles said.
Twice elected president and twice deposed, Aristide is a hugely popular but also hugely polarizing figure in Haiti. The US and others fear his presence will disrupt the election and bring further disarray to a country struggling to emerge from a political crisis, a cholera epidemic and the devastation of the earthquake in January last year.
Aristide, who was last ousted in a 2004 rebellion amid accusations that he led a corrupt government and orchestrated violent attacks on his foes, has no intention of becoming involved in politics, said his lawyer, Ira Kurzban, and other supporters.
However, Aristide could sway the outcome of the election with an endorsement of either candidate.
"We're going to stay wherever he is until he tells us what to do," said Tony Forest, 44, a minibus driver. "We will vote for the candidate he picks."
Aristide did not mention politics as he boarded the plane for home in a blue suit with his wife, Mildred, and two daughters.
"The great day has arrived! The day to say goodbye before returning home," he said in Zulu, a language he studied in South Africa. "We are delighted to return home after seven years. In Haiti also, they are very happy. Their dream will be fulfilled."
He took no questions from the dozens of journalists who gathered to see him off.
Aristide, a former slum priest who became Haiti's first -democratically elected president, did not fully serve either of his terms. He was ousted the first time in a coup, then restored to power in a US military intervention in 1994. After completing that term in 1996, he was elected again in 2001, only to flee a rebellion in 2004 aboard a US plane. Aristide claimed he was kidnapped. US officials denied that.
In exile, he has been reclusive, doing university research and polishing his academic credentials with a doctorate awarded by the University of South Africa for a comparative study on Zulu and Haitian Creole.
Obama was concerned enough about Aristide's possibly destabilizing influence to call South African President Jacob Zuma on Tuesday and discuss the matter, US National Security Council spokesman Tommy Vietor said.
Aristide's aides say he feared that if he waited, the winner of tomorrow's vote might block his return.
In the past, both candidates — university administrator and former first lady Mirlande Manigat and popular singer Michel "Sweet Micky" Martelly — opposed Aristide.
Now, both Martelly and Manigat stress their support for his right to return as a Haitian citizen under the Constitution.
In front of Haiti's crumbled National Palace, a man who is -supporting Martelly in the election told Associated Press Television News that he had mixed feelings about the arrival.
"Yes, I support Aristide. I love Aristide," said the man who gave only his first name, Carlos. "But I don't want him to come back right now because it can be trouble for the election."
Comments will be moderated. Keep comments relevant to the article. Remarks containing abusive and obscene language, personal attacks of any kind or promotion will be removed and the user banned. Final decision will be at the discretion of the Taipei Times.