Hillary Clinton pushes for jobs and reforms in transitioning Tunisia
'NOT WELCOME': In the third anti-US demonstration in as many days, hundreds of demonstrators, including Islamists, protested against perceived US interference
US Secretary of State Hillary Rodham Clinton pledged on Thursday to help Tunisia create jobs and undertake reforms to keep the momentum behind the popular uprising that overthrew its autocratic president two months ago.
The chief US diplomat held talks with interim Tunisian President Fouad Mebazaa, who replaced the ousted former Tunisian president Zine El Abidine Ben Ali, after saying that an international donors conference would help to focus minds on Tunisia's needs.
New government officials and other Tunisians understand "we need a plan for economic development, for jobs," said Clinton, the most senior US official to visit since Ben Ali's ouster on Jan. 14.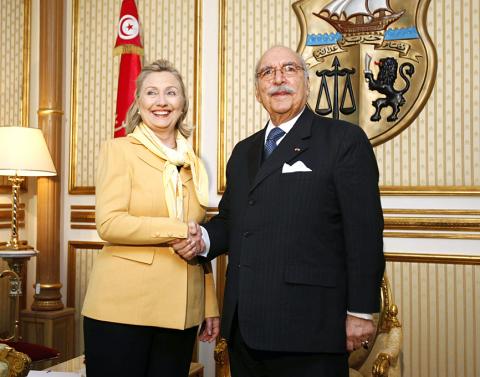 US Secretary of State Hillary Rodham Clinton shakes hands with interim Tunisian -President Fouad Mebazaa at the Presidential Palace in Tunis on Thursday.
Photo: Reuters
"The revolution created so many hopes, and now we have to translate those hopes into results, and that comes through economic reform and political reform," Clinton said, looking ahead to a donors conference "some months" from now.
Unemployment was a major factor in the political unrest that erupted in Tunisia in December.
Tunisia's unemployment rate is officially 14 percent, but the percentage of graduates without work is about double that, prompting a warning from the IMF.
Tunisians shout and hold up placards during a demonstration in front of the Foreign -Affairs ministry during a protest against the visit of US Secretary of State Hillary Rodham Clinton in Tunis yesterday.
Photo: AFP
Hundreds of Tunisians, including Islamists, meanwhile marched through central Tunis to protest Clinton's visit, the third such demonstration in three days.
They chanted: "Hillary Clinton, you are not welcome, get out," "No colonization after the revolution" or "No to US tutelage on Islamic soil," as they warned against any US intervention in neighboring -revolt-wracked Libya.
"Tunisians made their revolution on their own. They are fully capable of building a new Tunisia without anybody's help," human rights activist Radhia Nasraoui said.
Later in the day, at an event broadcast on state TV, Clinton answered a question on Algerian reforms saying: "We were very pleased to see the lifting of emergency rule, and yet we don't think that will be enough. There needs to be more, but we are supporting the process."
She said the US wants the authorities to make "greater space" for political speech and for the opposition, for economic integration and entrepreneurial development.
"We know there is a list of steps that are more likely to increase the success of the reform efforts and we hope to see that in the weeks and months ahead," she said.
Clinton also conferred with Tunisian Foreign Minister Mouldi Kefi and interim Tunisian Prime Minister Beji Caid Essebsi.
In a speech after her meeting with Kefi, the US chief diplomat praised the Tunisian people's fight for democracy.
"You have shown the world that peaceful change is possible. The United States stood with Tunisia during your independence and now we will stand with you as you make the transition to democracy, and prosperity and a better future," she said.
She said she and Kefi discussed a number of ways Washington could help, including assistance to those who will draft Tunisia's new constitution following elections for a constituent assembly slated for July.
Clinton said she would push for US$20 million for Tunisia to "respond to some of their needs" after Tunisian officials clamored for US help, but hinted at more aid.
"We need to have a very big commitment to Tunisia, that we can be ready to help them economically as well as with their democratic transformation," the secretary said.
The revolt against Ben Ali, who ruled with an iron fist for 23 years, began after a 26-year-old fruit vendor, Mohammed Bouazizi, died after setting fire to himself to protest police abuses.
It sparked similar protests in Egypt, where Egyptian president Hosni Mubarak was toppled on Feb. 11, as well as in other countries across the region such as Bahrain, Oman, Yemen and Libya.
Tunis was the last stop of a three-capital tour that also took Clinton to Paris, where she discussed events in Libya, before her visit to Egypt.
Comments will be moderated. Keep comments relevant to the article. Remarks containing abusive and obscene language, personal attacks of any kind or promotion will be removed and the user banned. Final decision will be at the discretion of the Taipei Times.