US criticizes Bahrain crackdown
NO SECURITY ANSWER: US Secretary of State Hillary Rodham Clinton said force wouldn't resolve the issues in Bahrain after three police and three protesters died
Bahrain arrested at least six opposition leaders yesterday, a day after its crackdown on protests by the Shiite Muslim majority drew rare US criticism and raised fears of a regional conflict.
Bahraini forces used tanks and helicopters to drive protesters off the streets and clear a camp that had become a symbol of their demand for more democratic rights in the Sunni-ruled kingdom.
Three police and three protesters died in the crackdown.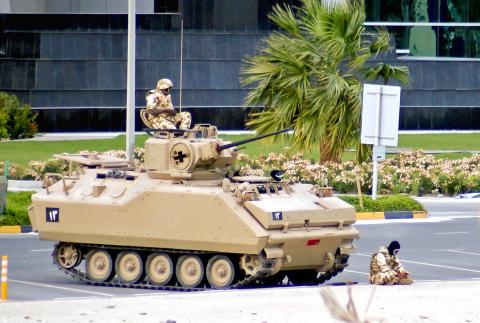 A soldier from the Gulf Cooperation Council forces prays in front of his armored personnel carrier as his fellow soldier keeps watch in Manama on Wednesday.
Photo: Reuters
The crackdown prompted sympathy protests from Shiites across the region and analysts said it might provoke a response from Iran, which supports Shiite groups in Iraq and Lebanon.
Pearl roundabout was a scene of devastation. Some tattered tents remained on the grass as diggers uprooted palm trees that surrounded the pearl statue where activists had been celebrating into the night only days before.
Troops were only allowing residents in and a long line of cars was backed up behind a checkpoint, waving through drivers heading to work in the financial district, where the protesters had tried to extend their sit-in early this week.
The military on Wednesday banned all protests and imposed a curfew from 4pm to 4am across a large swathe of Manama.
Among those detained overnight were Haq leader Hassan Mushaima and Wafa leader Abdel Wahhab Hussein, who had led calls for the overthrow of the royal family, the largest opposition party Wefaq said. More moderate Wefaq had limited its demands to wide-ranging political and constitutional reform.
Also arrested was Ibrahim Sharif, head of the secular leftist party Waad, that signed up to the same demands as Wefaq.
"Two of the thugs climbed over the fence to get in our yard, one went over and pointed a gun in Ibrahim's face and the other went to our garage to let everyone else in," Farida Ismail, Sharif's wife, said by telephone. "They were going around, wrecking things in the house."
The interior ministry could not immediately be reached for comment and the charges against those arrested were not known.
The unrest has brought an influx of troops to Bahrain from Sunni-ruled neighbors Saudi Arabia, Qatar, Kuwait and the United Arab Emirates, which fear the uprising that began last month could play into the hands of non-Arab Shiite power Iran.
Washington's position appeared ambiguous.
Earlier this week, Washington said it understood why Bahrain's Sunni rulers had called in reinforcements, but on Wednesday, US Secretary of State Hillary Rodham Clinton said force was not the answer.
"We find what's happening in Bahrain alarming. We think that there is no security answer to the aspirations and demands of the demonstrators," she told CBS. "They are on the wrong track."
A medical source said dozens of people were taken to Bahrain International Hospital on Wednesday, hit by rubber bullets or shotgun pellets, or suffering teargas inhalation — all weapons used by riot police. One was hit by a live bullet.
Protesters threw rocks and gasoline bombs at police who were clearing the protest camp and killed three by running them over in cars at high speed, witnesses and medical sources said.
US President Barack Obama called the kings of Saudi Arabia, a strategic ally of Washington in the Middle East, and of Bahrain, home to the US Navy's Fifth Fleet and seen as a bulwark against Iranian influence, to urge "maximum" restraint, but the violence appeared to dash hopes for political talks Washington hopes will take place.
SEE ECONOMIC ON PAGE 9
Comments will be moderated. Keep comments relevant to the article. Remarks containing abusive and obscene language, personal attacks of any kind or promotion will be removed and the user banned. Final decision will be at the discretion of the Taipei Times.