JAPAN DISASTER: Chinese snap up salt amid Japanese nuclear scare
Chinese retailers yesterday reported panic buying of salt, partly because shoppers believe it could help ward off the effects of potential radioactivity from Japan's crippled nuclear power plant.
"Salt sold out early this morning," an employee with a branch of French supermarket chain Carrefour in Shanghai said, declining to give her name.
She said all the salt was snapped up within 30 minutes of the store's opening yesterday by anxious shoppers, adding that many customers reported salt prices at other shops in the city had risen as much as six-fold.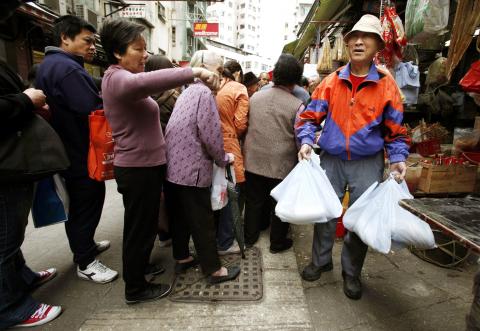 A man carrying bags of salt leaves a store while customers line up at a market in Hong Kong yesterday as shoppers in the territory rush to buy salt that they believe could help to protect them from radiation.
Photo: Reuters
A staff member at a supermarket in Guangzhou said salt demand had spiked so sharply that the store had imposed temporary limits on what each customer can buy.
"There are many people queuing to buy iodized salt in our store. We have to control it. One client can only buy two bags of salt," she said.
Salt sold in China is mostly iodized as part of a national policy to prevent iodine deficiency disorders.
Chinese consumers are now hoping iodine in the salt can reduce the impact of possible radioactivity as the crisis at -Japan's Fukushima nuclear plant deepened.
However, state-run China National Radio said the iodine content of edible salt in the country averages between 20 and 30 micrograms per kilogram, quoting experts saying that is too low to have any effect.
Some shoppers apparently also believe future salt shipments could be contaminated by the disaster and were buying now to stock up on supply, Xinhua news agency reported.
Radioactive iodine from a nuclear event can pollute the air and contaminate the food supply, while thyroid glands quickly absorb the radioactive substance, causing damage, according to the US Centers for Disease Control.
Iodide pills can block radioactive iodine from being taken into the thyroid, it said.
The China Daily said yesterday cydiodine tablets had sold out at many pharmacies in cities including Beijing and Shanghai after the earthquake and monster tsunami struck Japan.
Anxiety has been growing in China over the potential harmful effects of radiation emissions from its Asian neighbor, despite repeated Chinese government announcements that the country faces no imminent health threat.
Comments will be moderated. Keep comments relevant to the article. Remarks containing abusive and obscene language, personal attacks of any kind or promotion will be removed and the user banned. Final decision will be at the discretion of the Taipei Times.