Russian WTO bid is top priority, Biden says
US Vice President Joe Biden on Wednesday gave Russia's president a strong commitment to helping his nation join the WTO, a sign his two-day trip is focused more on economic ties than pressing the Kremlin hard on touchy issues like human rights.
Biden, who two years ago introduced the concept of "the reset button" after years of tension under former US president George W. Bush, told Russian President Dmitry Medvedev that WTO accession was "the most important item on our agenda," in a meeting at the presidential residence in Gorky, a Moscow suburb.
Earlier in the day, Biden used an appearance at a management school to urge Russia to improve its legal system and anti-corruption efforts, but such issues were absent from talks with Medvedev and the tenor of the meeting indicated this visit is really about business.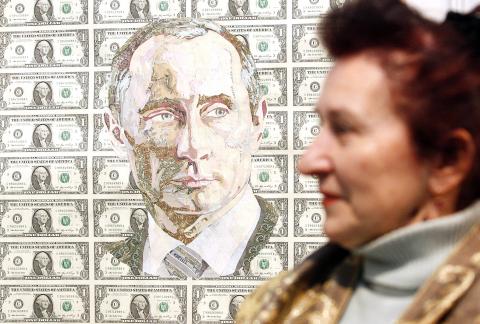 A visitor walks past a portrait of Russian Prime Minister Vladimir Putin, called Winter, by Ukrainian Ruslan Kutnyak at the Art Expo Ukraine in Kiev on Wednesday. Kutnyak makes portraits of famous politicians, using fragments of banknotes, like US dollars, British pounds, Russian rubles and Ukrainian hryvnias.
Photo: AFP
US President Barack Obama's administration regards integrating Russia into the world economy as key to its development and stability and that has moved concerns about Russian rule of law and democratic backsliding to a lower priority.
Even his call for reform at the Moscow School of Management Skolkovo was cast in economic terms.
"Investors are looking for assurances that the legal system treats them fairly and acts on their concerns swiftly," Biden told a meeting of top Russian and US businessmen at the school, which Russia sees as the core of an ambitious innovation center that officials hope will be Russia's equivalent of Silicon Valley.
Some Russian newspapers have theorized that Biden's trip could be seen as support for Medvedev running for a second term next year.
Medvedev is seen as the weaker figure of Russia's ruling tandem, dominated by the more hard-line Russian Prime Minister Vladimir Putin, and it is as yet uncertain whether Medvedev will seek a second term or cede his candidacy to Putin, who was president between 2000 and 2008.
The White House said it is not getting involved in Russia's internal politics, but Biden appeared to make efforts to boost Medvedev's image and esteem.
"For my entire career, when I sat with a Russian leader, I was sitting with one of the most powerful men in the world and that's how we still think of you — I mean that sincerely," he said.
Medvedev in turn thanked Biden for support of Russia's WTO bid, saying: "I hope this process will be completed this year with the active support of the United States."
Comments will be moderated. Keep comments relevant to the article. Remarks containing abusive and obscene language, personal attacks of any kind or promotion will be removed and the user banned. Final decision will be at the discretion of the Taipei Times.