NEW ZEALAND EARTHQUAKE: Web sites become virtual crisis center
Victims and survivors of the New Zealand earthquake are using the Web as a virtual crisis center, searching for missing people and even offering survivors a place to stay.
Information is flowing out from Christchurch to sites such as Web giant Google's Crisis Response service where people can add or request information on individuals.
The site's person finder tool had 8,500 records on people in the area by 7:30am.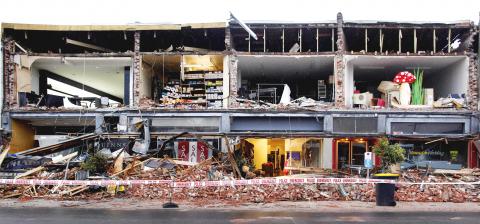 An area is cordoned off yesterday after the front wall of a row of shops was destroyed during Tuesday's earthquake in Christchurch, New Zealand.
Photo: Reuters
Google offered similar services for victims of the recent earthquakes in Chile and Haiti, and later used its Google Earth satellite imagery service to capture the scale of the devastation.
The site (www.google.com/crisisresponse/christchurch_earthquake.html) has emergency telephone numbers and other resources, such as a link to donate to the New Zealand Red Cross.
However, a random search of the site illustrates the confusion in the shattered city.
People searching for a man named John Bing were told in one message "fatal injuries sustained as result of continuously falling debris," whereas another message said he was "safe and sound, with other Telecom employees."
On micro-blogging site Twitter (hashtags @safeinchch and #eqnzcontact) there is a constantly updating stream of messages about those missing and the situation on the ground.
There is also information on where to find drinking water, gasoline and even cash machines.
Another site, eq.org.nz, is helping take pressure off emergency services by plotting official and user-generated information and reports on a Google Map.
People from all over New Zealand have rushed to use social network Facebook to open up their homes to people whose own houses may now be piles of rubble.
"If anyone needs to get away from the city we have space on a three-acre [0.5 hectare] block — have a spare room, own water tank, can accommodate anyone that comes regardless of space," Rebekka wrote. "Room for animals as well!"
A major problem has been the lack of power and telecommunications to get messages in and out of the city.
Local power company Orion told the national radio broadcaster it would be several days before power was fully restored.
Comments will be moderated. Keep comments relevant to the article. Remarks containing abusive and obscene language, personal attacks of any kind or promotion will be removed and the user banned. Final decision will be at the discretion of the Taipei Times.