Medvedev, Putin praise predecessor Boris Yeltsin
Russian President Dmitry Medvedev unveiled a monument to the nation's first post-Soviet leader, Boris Yeltsin, praising a man reviled by many with dark memories of his rule in the chaotic 1990s.
At a ceremony in the late president's home province on Tuesday, on what would have been his 80th birthday, Medvedev cast Yeltsin as a determined leader who, despite his flaws, carried Russia through tough times and set it on the right course.
"The path of the first president of our country was very difficult," he told a small crowd in the bitter cold at the monument, a wall bearing Yeltisn's name and a tower carved with his image.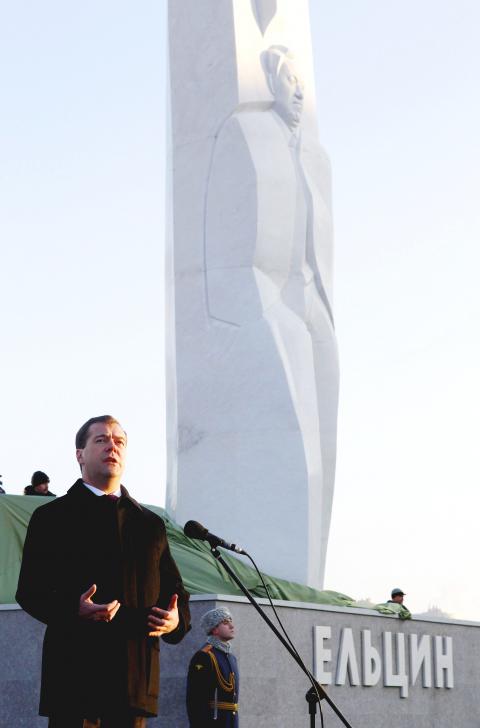 Russian President Dmitry Medvedev gives an address at the inauguration of a monument to the first president of the Russian Federation, Boris Yeltsin, in Yekaterinburg, Russia, on Tuesday.
Photo: EPA, Dmitry astakhov
"Russia should be grateful to Yeltsin for the fact that during the most difficult time the country did not steer off the course of change, it carried out serious transformation and is moving forward today," Medvedev said.
Russian Prime Minister Vladimir Putin, who was has often criticized Yeltsin's policies, heaped rare praise on Yeltsin on Tuesday.
"In the 1990s, Russia experienced a second birth and became an open, civilized state," Putin said at a lavish ceremony in Yeltsin's honor at Moscow's Bolshoi Theatre, and added that Yeltsin's role in radical change was "huge."
A maverick who gained popularity for challenging the Kremlin's Communist bosses by calling for faster reform, Yeltsin was elected Russia's president in June 1991 and helped hasten the collapse of the Soviet Union months later.
Comments will be moderated. Keep comments relevant to the article. Remarks containing abusive and obscene language, personal attacks of any kind or promotion will be removed and the user banned. Final decision will be at the discretion of the Taipei Times.