Nine killed in car bomb attack in Pakistan market
A car bomb tore through a packed Pakistani market near a police station yesterday, killing nine people, in the fifth attack in the city of Peshawar in less than a week, officials said.
The bomb was planted in a car, devastating shops and vehicles as civilians thronged the congested area at the start of the working day in the northwestern city at the forefront of Taliban and al-Qaeda-linked attacks.
Peshawar runs into Pakistan's lawless tribal belt, which Washington considers the global headquarters of al-Qaeda and where US drone strikes target Islamist fighters active in the nine-year war in neighboring Afghanistan.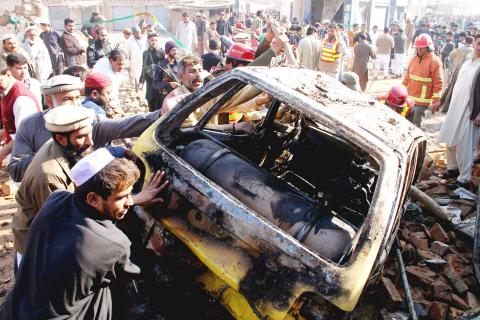 People topple over a car destroyed by a bomb blast near a market in Peshawar, Pakistan, yesterday.
Photo: EPA
"It was a timed bomb. The target was police. He parked the car here due to the rush," senior police official Mohammad Ijaz Khan told reporters.
Peshawar's main Lady Reading Hospital said it had received nine dead after the attack, including three children and one woman.
"Nineteen people were also injured. Children and women are among the injured as well," hospital chief Abdul Hamid Afridi said.
Peshawar city police chief Liaquat Ali Khan confirmed the death toll, but said 21 people had been injured.
"The bomb blast took place in a congested market. All the dead and injured are civilians," Peshawar administration head Siraj Ahmad said.
"About 40 to 45kg of explosives were used. Four vehicles were destroyed and 16 shops were badly damaged. Some of them were completely destroyed," bomb disposal official Tanvir Ahmad said.
On Monday, twin bomb attacks targeting police in Peshawar killed six people. The Taliban claimed responsibility for a suicide attack on a police patrol in which a teenage bomber killed five people on the city's outskirts.
Pakistan launched its most ambitious military offensive yet against the Taliban in South Waziristan in 2009 and has fought campaigns in the other six semi-autonomous tribal districts along the Afghan border.
Washington has said eliminating militant sanctuaries in Pakistan's tribal belt, particularly North Waziristan, is vital to winning the war against the Taliban in Afghanistan and defeating al-Qaeda.
However, General David Rodriguez, deputy US commander in Afghanistan, told a Pentagon news conference on Tuesday that he believed US-led NATO forces could still win the war even if Pakistan did not move against militant havens.
"We're going to encourage them to do more because that makes it easier on what we're doing. But I think it's still doable, without them decreasing what they've been doing, which is significant," he said.
Comments will be moderated. Keep comments relevant to the article. Remarks containing abusive and obscene language, personal attacks of any kind or promotion will be removed and the user banned. Final decision will be at the discretion of the Taipei Times.