Milk powder demand clears HK shelves
China food safety concerns and a strong currency are prompting a flood of Chinese parents to sweep supplies of milk powder from Hong Kong shop shelves, triggering shortages and angering parents.
Two years after the melamine-tainted milk powder scandal hit Mainland China and made almost 300,000 children sick, problems have continued to undermine Chinese public confidence including the seizure of over 100 tonnes of tainted milk powder last year.
DEMAND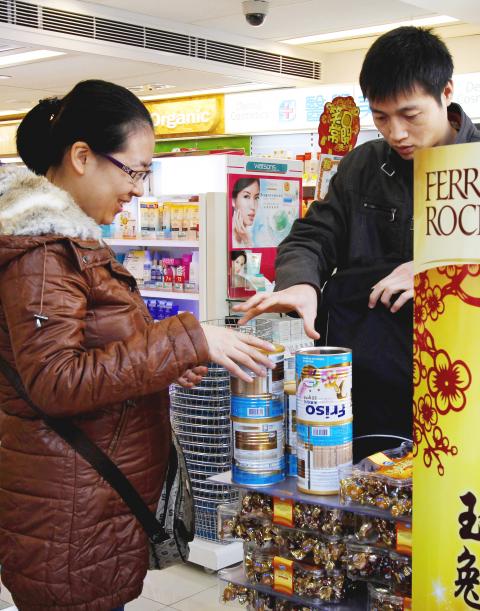 A couple from Shenzhen, China, puts cans of milk powder they bought for their baby into a backpack at a drug store in Hong Kong's northern rural Sheung Shui on Monday.
Photo: Reuters
Such entrenched product safety concerns have fuelled rapid growth in whole milk powder imports to China, which almost doubled to an estimated 340,000 tonnes last year, making China the world's largest market for such infant formula.
A lucrative and booming parallel market has emerged in southern China, with Hong Kong's high quality and regulated infant formula brands proving popular with Chinese parents streaming across the border to sweep up stocks, leaving shelves bare for popular brands.
"As a parent, of course we hope our children are healthy so a little inconvenience is worthwhile," said Chinese mother Wang Lan, who was buying six tins of Netherlands-made Frisco milk powder in the Hong Kong border town of Sheung Shui that has become a hot spot.
"Those who are able to come will often come across to buy now," Wang added.
Grey market traders have also piled into the trade, employing mules that are regularly seen on the streets of Sheung Shui, shuttling boxes of formula up north by train on trolleys where they're sold for a large mark-up profit.
The rise in the yuan against the US-dollar-pegged Hong Kong dollar has also made the territory's products relatively cheap.
"Even if we get 100 boxes [of milk powder], I'm honestly telling you, within two or three days I can sell everything," said Alan Kwok, who runs a small dispensary in Sheung Shui.
"There are a lot more people snatching milk powder from Hong Kong," Kwok added, saying sales had surged 40 percent this year.
COMPLAINTS
The shortages have sparked a tide of complaints from Hong Kong parents, who've had to scour stores for increasingly scarce tins in recent weeks, forcing some, in extreme cases, to feed their babies bread or noodles instead.
Several hundred parents recently launched an online petition calling for explicit curbs including the implementation of a milk powder tax for those taking Hong Kong milk powder into China.
Some major brands, like Mead Johnson Nutrition, have now pledged emergency measures. Elaine Chow, an employee with the firm in Hong Kong, said it was setting up an ordering hotline for parents and would release an extra 420,000 tins of formula in the next two weeks to meet demand.
Comments will be moderated. Keep comments relevant to the article. Remarks containing abusive and obscene language, personal attacks of any kind or promotion will be removed and the user banned. Final decision will be at the discretion of the Taipei Times.