Police fire tear gas on Tunis rally
'WE HAVE NOTHING': Groups of protesters from rural areas, which is a world away from the opulent coast, surrounded the prime minister's building
Tunisian police used teargas yesterday to try to disperse protesters demanding the removal of government ministers linked to ousted Tunisian president Zine al-Abidine Ben Ali. The protesters, mostly from marginalized rural areas who had camped out overnight at the prime minister's office, broke windows at the nearby finance ministry building.
More than a week after Tunisian Prime Minister Mohamed Ghannouchi took the reins of an interim coalition following the overthrow of Ben Ali, he and other former loyalists of the feared ruling party face mounting pressure to step down.
What shape an eventual popular leadership might take is unclear. Formal opposition parties exist, but are not well known after decades of oppression. A hitherto banned Islamist party has called for early elections and may find ready support.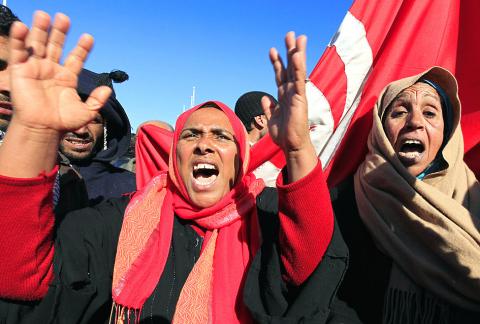 Protesters from Tunisia's poor rural heartlands chant slogans during a demonstration near the prime minister's office in Tunis on Sunday.
PHOTO: REUTERS
Tunisian Foreign Minister Kamel Morjane, who served under Ben Ali, said he would not step down for the moment.
"As for my post as a minister, I see it as a way to help my country at a difficult moment. I am not insisting on staying in the government," he told France's Le Figaro newspaper.
He said his main concern was that the country might "descend into chaos."
For days, protesters have gathered at the prime minister's office, limited in numbers but tolerated by police anxious for their own future after Ben Ali. The demonstrators enjoy wider support among a population unused to free political expression.
On Sunday, amid a weekend calm, hundreds of people who had been driven to the capital in a "freedom caravan" surrounded Ghannouchi's building in central Tunis. Many were from Sidi Bouzid, the bleak central city where the "Jasmine Revolution" was sparked a month ago by one despairing young man's suicide.
"We are marginalized. Our land is owned by the government. We have nothing," said Mahfouzi Chouki from near the city, 300km south of Tunis and a world away from the opulent coastal resorts favored by Ben Ali's elite.
Comments will be moderated. Keep comments relevant to the article. Remarks containing abusive and obscene language, personal attacks of any kind or promotion will be removed and the user banned. Final decision will be at the discretion of the Taipei Times.