Obama approval gains after shooting
US President Barack Obama's approval rating has risen to match its highest level in a year in the wake of the Arizona shooting tragedy, a new survey has found.
Fully "54 percent now approve of Obama's job performance, up five points from last month and eight points above his career low in September," the ABC News-Washington Post poll released on Monday found.
It was a sharp turnaround for the president whose personal political heft and Democratic Party took major hits in November midterm elections, and with the economy still a major source of public dismay.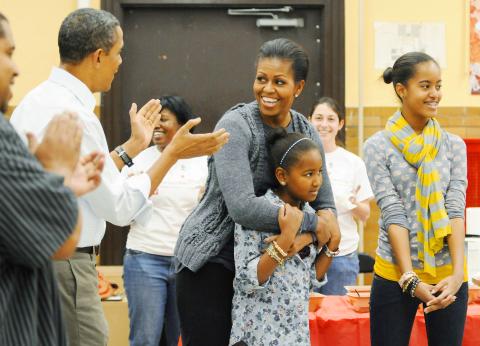 First lady Michelle Obama holds her daughter Sasha as she is greeted by volunteers singing Happy Birthday to her as she arrives with US President Barack Obama, left, and daughter Malia, right, to volunteer in honor of Martin Luther King Jr Day at Stuart-Hobson Middle School in Washington on Monday.
Photo: Reuters
Obama, however, got a major boost from the fact the majority of Americans supported his handling of the Arizona massacre, even if they were split on how political strains may have played into the case.
The ABC News-Washington Post poll found that 78 percent approved of Obama's call for a more civil politics in the wake of the tragedy, including 71 percent of Republicans and conservatives.
However, Americans were divided evenly over whether increasingly partisan political discourse in the US encourages violence.
The poll found just 52 percent of Americans favor stricter gun regulation after the shooting, roughly the same percentage as in past years and less than in the days after the deadly 2007 Virginia Tech shooting, the Post said.
The Jan. 8 attack in Tucson, Arizona, was allegedly carried out by disturbed 22-year-old Jared Loughner, whose exact motives remain unclear.
Six people were killed in the attempted assassination of US Democratic Representative Gabrielle Giffords, who was shot through the head and is in serious condition. More than a dozen others were wounded in the assault.
Just 31 percent of those polled favor a blanket prohibition on all handguns, which the Post said was comparable to the number following the 1999 Columbine High School shooting in Colorado and the Virginia Tech massacre.
However, the poll found widespread support for curbing the sale of firearms to individuals with a history of mental illness or drug abuse by adding their names to a federal gun registry.
Most Americans, 57 percent, say enforcing existing laws is a better way to reduce gun violence than legislating new ones.
On the country's increasingly angry political discourse, 45 percent said Republicans had "crossed the line" of acceptable rhetoric on political issues, while 39 percent said Democrats had.
However, the vast majority of self-identified Republicans and Democrats accused their opponents and rival media commentators of going too far.
In contrast to Obama's glowing reviews, a large number of Americans disapproved of Sarah Palin's response to the tragedy, in which she accused the media of manufacturing a "blood libel" against her conservative backers.
The use of the term for an anti-Semitic slander that stoked centuries of violence was criticized as insensitive by Jewish leaders.
Almost half of all Republicans and a majority of conservative Republicans, however, approved of Palin's actions, the poll found.
The poll was conducted by telephone from Jan. 13 to Jan. 16 among 1,053 randomly chosen adults and has a margin of error of plus or minus 3.5 percentage points.
Comments will be moderated. Keep comments relevant to the article. Remarks containing abusive and obscene language, personal attacks of any kind or promotion will be removed and the user banned. Final decision will be at the discretion of the Taipei Times.