Troops erect bridges in mudslide zone
BRAZIL'S FRUSTRATION: Hundreds of survivors crowded into temporary shelters have no idea of how or when they will be able to leave and start to rebuild their lives
Brazil's army on Monday sent 700 soldiers to help throw a lifeline to desperate neighborhoods that have been cut off from food, water or help in recovering bodies since mudslides killed at least 665 people.
Troops have already set up at least one bridge in the mountain vacation city of Teresopolis, officials said, but at least 10 main highways remain blocked in the rugged area north of Rio de Janeiro where the slides hit, hampering efforts to move in the heavy machinery needed to begin massive clean up efforts and eventually dig out bodies stuck under tons of mud and debris.
The troops plan to set up mobile bridges that can span 60m and are robust enough to support the hundreds of pieces of big equipment needed in clean up and recovery efforts.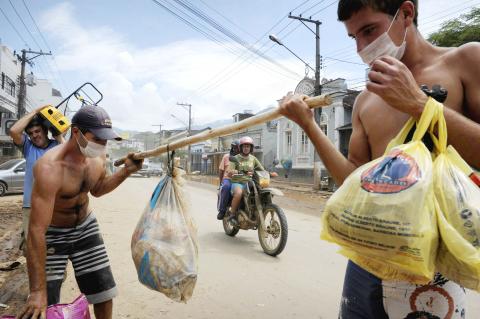 Wearing face masks due to the stench, residents attempt to salvage goods on a street damaged by floods and mudslides in Nova Friburgo, Rio de Janeiro, Brazil, on Monday.
Photo: AFP
Days of heavy rains unleashed tons of earth, rock and raging torrents of water down steep, forested mountainsides last Wednesday, directly into towns that are weekend getaways for the Rio area.
Rescuers had yet to reach about 20 neighborhoods, though a break in rains and better visibility allowed about 12 helicopters to begin taking supplies and firefighters in, while shuttling injured survivors out.
Pilots said flying was still treacherous in the area full of jagged mountain peaks, where there are few safe landing zones and power lines are draped between peaks through seemingly clear space.
"These are the most challenging conditions I've flown in," said Adalberto Ortale, a helicopter pilot for Ibama, the enforcement branch of the Environment Ministry. "The majority of people doing the flying are not from here and you have to orient yourself on the fly."
Brazilian Minister of Science and Technology Aloizio Mercadante said 5 million Brazilians live in some 800 areas at high risk for mudslides and floods across the nation, but that it would take at least four years for a nationwide alert system to be in place, the Folha de S. Paulo newspaper reported on its Web site on Monday.
After a meeting with Brazilian President Dilma Rousseff in Brasilia, Mercadante said Brazil has a relatively robust system of collecting weather information via satellite and radar, but that the nation needs more people to interpret the data and alert local officials to dangers in a coordinated manner.
In downtown Teresopolis, frustration and hopelessness was building. Hundreds of survivors remained uncertain of how they were going to be able to leave crowded shelters and restart their lives.
Eunice Peixoto de Souza, 57, said she was thankful for the shelter and the hot lunches served at the Teresopolis gymnasium where she has been staying for five days with three of her children and three grandchildren. But she has nowhere else to go, and the prospect of spending another week, or weeks, on the thin foam mattresses laid on the floor is hard to bear.
"We lost everything, and we can't pay rent," she said. "I want a place that will let the family stay together, but I haven't heard any word from the government yet."
One of her sons is still living in his home in a high-risk area.
She wants him to leave, but knows he won't want to bring his children to the cramped gym.
In Teresopolis, mayors from the three cities hardest hit planned to begin coordinating reconstruction efforts, which have been roughly estimated at US$1.2 billion.
At least 5,000 new homes must be built for those who lost everything. Roads, bridges and commercial buildings need to be repaired or razed and replaced.
Comments will be moderated. Keep comments relevant to the article. Remarks containing abusive and obscene language, personal attacks of any kind or promotion will be removed and the user banned. Final decision will be at the discretion of the Taipei Times.