Hu visit not expected to bridge divide
BALANCE OF POWER: China's growth has given it much more power to resist US pressure. North Korea is one area in which China and the US may show cooperation
After a tumultuous year that saw a shift in power between the world's two biggest economies, Chinese President Hu Jintao (胡錦濤) heads to Washington this week for a carefully orchestrated visit — but one that is not expected to bridge the deep divisions plaguing ties.
Hu and US President Barack Obama will be at pains to put a positive spin on the complex relationship between their countries when they hold talks in Washington at a small dinner tomorrow and again on Wednesday.
However, there will be many contentious issues on the table.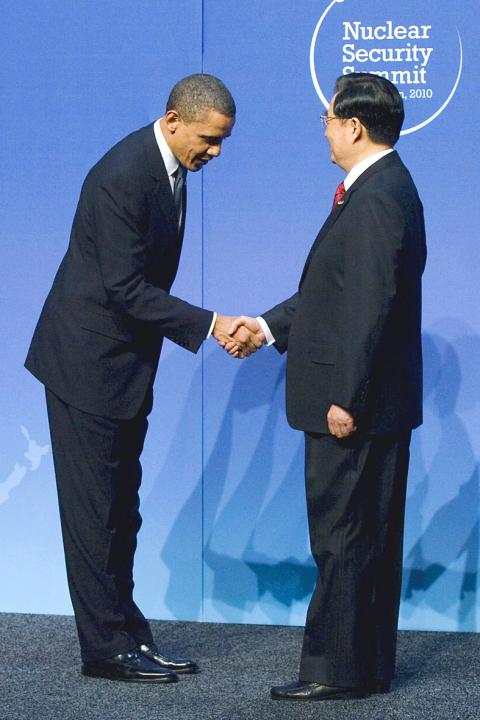 US President Barack Obama greets Chinese President Hu Jintao during the Nuclear Security Summit on April 12 last year.
Photo: AFP
Gripes over the value of the yuan, trade disputes, US arms sales to Taiwan, the Dalai Lama's US visit, the award of the Nobel Peace Prize to Chinese dissident Liu Xiaobo (劉曉波), Internet freedom and naval rivalries in the Pacific, have dogged relations.
Even if both sides "share the view that they have more interest in cooperation than open hostilities,",according to Jia Qingguo (賈慶國), a US expert at Peking University, the shift in the power balance has complicated matters.
"China's sheer weight has grown to the point Beijing now has greater capacity to resist American policies" and "is growing more assertive on security issues," the Eurasia Group said.
Aware of the diplomatic pitfalls ahead, the US and China have painstakingly prepared Hu's state visit, his first since Obama took office in 2009.
Hu's four-day trip will include a state dinner at the White House on Wednesday evening, talks with US lawmakers and a stop in Chicago.
Senior officials have shuttled between the two capitals, including US Secretary of Defense Robert Gates, who traveled to China last week to restore military ties suspended one year ago by Beijing.
China meanwhile has again pledged to allow more flexibility in the yuan exchange rate — a key issue for US lawmakers — and made moves aimed at making it a global currency.
However, the pomp and circumstance that will meet Hu is unlikely to mask nagging problems.
Last week, US Treasury Secretary Timothy Geithner warned that China's yuan policy is not "tenable," and US Secretary of State Hillary Rodham Clinton pressed Beijing on human rights.
Gates was meanwhile greeted by the maiden flight of China's first stealth fighter jet — a sign of the increasingly sophisticated capability of Beijing's military.
"Tangible achievements will be limited to clean energy initiatives and high-profile commercial deals, but broader underlying sources of friction will persist," the Eurasia Group said.
For Russell Leigh Moses, a Beijing-based political analyst, "the state of relations is not entirely sound on both sides, and both sides are clearly interested in making sure it doesn't spiral further down."
After the promise of Obama's visit to China in November 2009, during which the US leader said Sino-US cooperation had "never been more important to our collective future," relations began to deteriorate.
China emerged from the global financial crisis in strong form, overtaking Japan as the world's No. 2 economy last year and seeing its diplomatic, economic and military clout soar. It now holds more than US$900 billion worth of US debt.
Obama meanwhile faced a tough year at home and abroad, seeing his Democratic Party losing control of the US House of Representatives in bruising November midterm elections.
That combination fueled the Sino-US rivalry on several fronts, and sent relations into a tailspin.
Analysts said that Hu and Obama would seek to focus on areas where relations remain solid.
"Reform of the international financial system is one of the subjects on which there could be consensus," said Jean-Pierre Cabestan, a professor of political science at Hong Kong Baptist University.
"The Group of 20, economic cooperation and their intertwined investments could also be areas of consensus," he said, adding that Washington "would definitely like to see more Chinese investments."
North Korea could offer the two sides an opportunity to tout their cooperation, according to Shi Yinhong (時殷弘), a professor of international relations at Renmin University in Beijing.
Comments will be moderated. Keep comments relevant to the article. Remarks containing abusive and obscene language, personal attacks of any kind or promotion will be removed and the user banned. Final decision will be at the discretion of the Taipei Times.