Envoys in last push as south Sudan's big day looms
Hollywood star George Clooney, Western envoys and elder statesmen gathered in Sudan on Friday as the war-ravaged south was finally poised to have its say on independence after a 50-year wait.
The beat of African drums reverberated around the south's regional capital Juba as hordes of youthful campaigners, who have held monthly rallies to ensure the promised referendum goes ahead, staged an exuberant "final march to freedom" from the Arab-dominated government in Khartoum.
Envoys of the major powers, which played a key role in brokering the 2005 peace deal that ended Africa's longest-running civil war, were there for one final diplomatic push to ensure no last-minute hitches mar the landmark vote.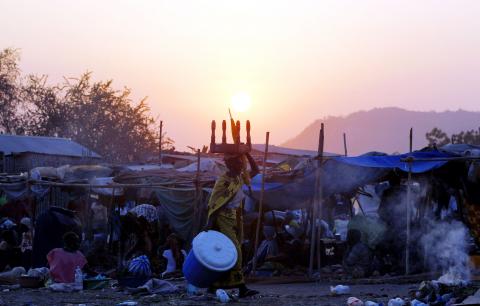 A trader carries her wares at sunset on Friday from an open-air market on the outskirts of the southern Sudanese capital of Juba. Sudanese President Omar Hassan al-Bashir made his final trip to Juba on Tuesday, offering a hand of peace and seeming to accept that Sudan would split in two after a referendum today. His visit was seen as allaying fears that the northern government would refuse to let go of the south, which provides 70 percent of Sudan's oil output.
PHOTO: REUTERS
"Just two days to go — we're going to vote and then the country will be split in two," crowed Archelango, an elderly southerner newly returned from years as a refugee to have his say.
Cars festooned in the black, red and green of the southern flag toured the dusty streets and potholed pistes of Juba to ramp up enthusiasm for the week-long polling which begins today.
Although the opposition to -independence has been well-nigh invisible, turnout will be important because the 2005 Comprehensive Peace Agreement (CPA) stipulates a quorum of 60 percent of the 3.8 million registered voters.
The commission organizing the referendum said its preparations were "absolutely complete."
"The ballots arrived at all of the centers all over the south," spokesman George Maker Benjamin said.
An official ban on further campaigning would come into force after Friday's rallies, he added.
In Khartoum, US envoy Scott Gration held a last round of talks with government officials and referendum organizers hot on the heels of US Senator John Kerry, as Washington pulled out the stops to ensure no hitches block implementation of the peace deal in which it was so instrumental.
Kerry voiced cautious optimism that, after the tensions and wars of words of the past year, the referendum would finally proceed as planned.
However, he also warned that the referendum was just "step one" in a process which would lead south Sudan to independence, or continued autonomy, in July.
Kerry spoke of having set out during his talks the possible benefits to both the north and south if both sides acted in good faith.
He gave no details of the incentives on offer, but US officials have hinted that some US sanctions against Khartoum might be lifted if it respects its commitments.
One major issue has been the future citizenship rights of the hundreds of thousands of southerners who fled the war and remain in the north.
In September, Sudanese Information Minister Kamal Obeid sparked accusations of referendum scare tactics when he warned that they would no longer be citizens if the south chose independence.
However, in an interview with Al-Jazeera on Friday, while acknowledging that a vote to break away was now more or less a certainty, Sudanese President Omar al-Bashir said the natural corollary was that southerners could no longer expect the same rights in the north as northerners.
"Since they have decided, or will decide, that Sudan will be divided into two states, and that they will establish a state for themselves in southern Sudan, there is no logic that says they must have the same rights and benefits in north Sudan," he said. "They say 'we are marginalized, second-class citizens.' Well, to not be marginalized, don't take the nationality of the country that marginalizes you."
Bashir said 20 percent of public sector jobs were currently occupied by southerners. Asked if they would lose their jobs in the event of secession, he said: "Of course, if the south splits."
Another worry has been the disputed oil district of Abyei on the north-south border where a simultaneous vote on its future had been due to be held today, but has now been indefinitely postponed.
Clooney toured Abyei on Friday amid fears of new violence between the district's settled pro-southern Ngok Dinka population and heavily armed Misseriya Arabs from the north who use its waters for seasonal pasture.
In New York meanwhile, a top Sudanese envoy warned on Friday that the vote in southern Sudan could start a worrying trend in Africa.
"We are fully committed to the referendum, we are fully committed to the outcome, but that does not deprive me from saying it is very unfortunate, it is going to open a Pandora's Box for Africa," Sudan's UN ambassador Daffa-Alla Elhag Ali Osman said.
Other countries might soon be confronted by the same phenomenon, he said, warning: "That will create a lot of havoc."
Comments will be moderated. Keep comments relevant to the article. Remarks containing abusive and obscene language, personal attacks of any kind or promotion will be removed and the user banned. Final decision will be at the discretion of the Taipei Times.