FEATURE: Organic farming booms in post-sanctions Serbia
Standing in her greenhouse in gumboots, Zorana Gajic jokes how she used to think "food grew in supermarkets" but now experiments on how to mix crops to ensure optimum use of her "organic" soil.
A path next to the greenhouse leads to an orchard with plum and cherry trees, melon patches in between and a flock of sheep grazing peacefully throughout.
"I came to this via my husband, otherwise I would still think food was grown in supermarkets," said Zorana, a lawyer who works for the World Bank and the Serbian government.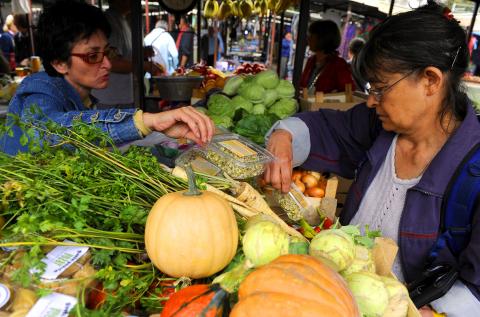 A market vendor sells organic vegetables to a customer in Belgrade on Dec. 18.
PHOTO: AFP
Her husband, Miodrag Radivojevic, a retired engineer, had inherited a 5.5-hectare family farm where the couple enjoyed growing some of their own vegetables. Then two years ago Zorana started having allergic reactions to tomatoes she bought in the supermarket because of pesticides.
That's when they decided to jump into organic farming.
"We started out of our love for nature but we were also aware of the potential market out there," she said.
The unique circumstances in Serbia allowed them to get quick certification as an organic farm: Almost a decade of international sanctions had crippled the economy, meaning farmers simply had not had money to buy chemical fertilizers and insecticides.
In general, experts say, agricultural land must be free of chemicals for three years to qualify for organic farming. In parts of Serbia, however, the process has been cut to two years — whereas in some EU countries where chemical use was heavy, it can take up to five or six years.
"For almost 20 years, farmers did not have the means to buy manure and herbicides. That's why the land is really clean compared to other countries in Europe," said Branko Cicic of the Organic Serbia Fund, which runs a special organic food stall in Belgrade's famed Kalenic market.
At the moment, only 0.3 percent of Serbian agricultural land is used for organic farming, but demand is growing, Igor Novakovic of Serbia's export promotion agency SIEPA said.
"There is a rise in organic production driven by domestic demand from young people who want to eat healthy food," Novakovic said.
In the Kalenic market, prices at the organic stand are significantly higher than at surrounding stalls. Its clients are mainly young urban upper middle class professionals with families.
"It is mothers who want to feed their children the best," Cicic said.
The trend has also attracted industrial producers like the -Belgrade-based Royal Eco Food, which makes organic versions of traditional Serb preserves like plum chutney and ajvar, a sweet pepper relish. Their ajvar has won a "superior taste" award from the Brussels-based International Taste and Quality Institute of independent chefs and sommeliers.
Though the firm is only five years old, sales boomed so fast it had to cut short a venture into the Russian market because its local producers could not keep up with the demand.
"Whatever we exported sold out," Tanja Stojanovic of Royal Eco Food said.
The growth has not been without obstacles.
"If you are a pioneer in any field, by default you are faced with difficulties," Stojanovic said.
"In the beginning we had to import [organic] tomatoes from Italy as we did not have enough suppliers here," she said.
It was also hard to get farmers willing to start the transition to organic production.
Now "we offer long-term contracts with guarantees given in advance that the production will be bought," Stojanovic said. "This was necessary to get the farmers involved in the process as the organic production is also more expensive and more risky."
Royal Eco Food would not comment on its turnover other than to say that production is sustainable. For now, it is focusing on the local market, but still eying expansion into the EU as Serbia's relations with Brussels improve.
And the potential for boosting production is vast. Figures from the agriculture ministry estimate that around 75 percent of Serbia's agricultural land, some 650,000 hectares, can be used for organic food production within three years.
"Because of the UN sanctions, you can find fields here of 20 hectares that people haven't put chemicals on in 20 years," Novakovic said.
He said Serbia was hoping to attract European investors to set up organic farms here, listing another national asset.
"You can also find highly skilled and cheap labor [and] in organic farming you need a lot of manual labor as you cannot use machines," Novakovic said.
Comments will be moderated. Keep comments relevant to the article. Remarks containing abusive and obscene language, personal attacks of any kind or promotion will be removed and the user banned. Final decision will be at the discretion of the Taipei Times.