Travel chaos in Europe eases up
Airline and international train services were limping back toward normal in parts of Europe yesterday, but the lingering effects of ice and snow that caused widespread chaos still weighed on schedules.
The disruptions to airlines and high-speed trains in continental Europe, and linking Britain to the continent, created travel chaos for tens of thousands of travelers in the busy Christmas period following heavy weekend snowfalls.
They also brought calls for legislation to force airports to deal more effectively with snow and other bad weather.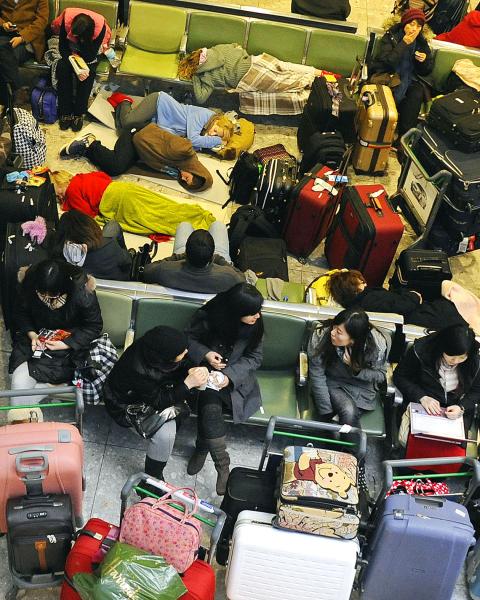 Passengers sleep on makeshift beds in Terminal 3 at Heathrow Airport in west London on Tuesday as snow and freezing temperatures grounded flights across northern Europe.
PHOTO: REUTERS
EU Commissioner for Transport Siim Kallas said he was considering forcing airports to provide a minimum level of infrastructure support during severe weather.
London's Heathrow, the world's busiest international airport, and Frankfurt Airport, the biggest on the continent, said on their Web sites that operations were returning to normal after severe disruptions.
Wolfgang Prock-Schauer, chief executive of airline BMI, owned by Lufthansa, accused BAA of being unprepared for the heavy snow at Heathrow.
"What is really incredible is that 10cm of snow closed the airport down for two days and then it operated at one-third capacity," he told the Times newspaper. "BAA was not prepared. It did not have enough de-icing fluid."
A spokesman for BAA, which is owned by Spain's Ferrovial, denied there had been a de-icer issue at Heathrow and said that lessons would be learned.
Heathrow was scheduled to operate 70 percent of a normal day's service, about 800 flights, but it was still advising passengers not to come to Heathrow unless they had confirmed flights, the spokesman said.
Heathrow reopened its second runway on Tuesday, offering a ray of hope for thousands of passengers stranded in departure halls, some for days in scenes that British newspapers said resembled refugee camps.
"Airlines are currently operating a significantly reduced schedule while they move diverted aircraft and crew back into position," BAA said on its Web site.
British Airways said that, in line with a directive from BAA, it would operate only one-third of its normal flight schedule at Heathrow until 6am today.
"It will take some time to rebuild an operation of our size and complexity at our hub airport, Heathrow," the airline said on its Web site.
Frankfurt international airport was open and running at full capacity yesterday after heavy snow shut it down on Monday for several hours and 400 flights were canceled.
An airport spokesman said there was a backlog of about 3,500 stranded passengers, including about 600 who spent the night on emergency cots at the airport.
"The airport operation is getting back to normal," airport spokesman Thomas Uber said. "But it will take a while to catch up."
Comments will be moderated. Keep comments relevant to the article. Remarks containing abusive and obscene language, personal attacks of any kind or promotion will be removed and the user banned. Final decision will be at the discretion of the Taipei Times.