South Korea holds live-fire drill
RESTRAINT: Both Beijing and Moscow said the drill had the potential to cause more tensions on the Korean Peninsula, calling on both sides to enter talks
South Korea held a live-fire drill on a border island and scrambled fighter jets yesterday, despite North Korean threats of retaliation, as UN diplomacy on the crisis broke down.
However, in an apparent sign of compromise over its nuclear ambitions, the North agreed with US troubleshooter Bill Richardson to permit the return of UN atomic inspectors to ease tensions, CNN reported.
The South Korean Ministry of Defense said the drill began at about 2:30pm and ended just after 4pm.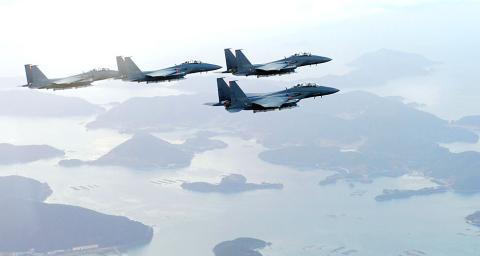 South Korean F-15K fighter jets fly near the border with North Korea in December 2008. South Korean put F-15K fighter jets on standby yesterday.
PHOTO: EPA
"Our armed forces are now on alert and fighter jets are on airborne alert," a ministry spokesman said.
Yonhap news agency said two destroyers had also been deployed in the Yellow Sea south of the disputed border.
North Korea used a similar exercise by South Korean marines on Nov. 23 to justify a bombardment of Yeonpyeong that killed four people, including civilians, and damaged dozens of homes.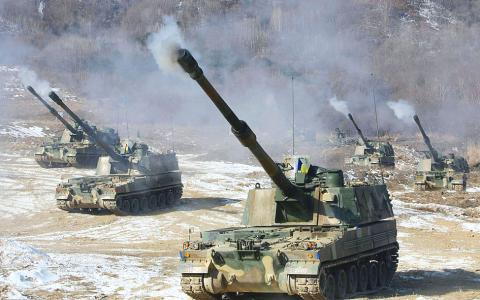 South Korean K-9 self-propelled howitzers fire in this February file photo. South Korea also mobilized the K-9s on Yeonpyeong Island yesterday.
PHOTO: EPA
It threatened another attack in response to the latest drill that would be "deadlier ... in terms of the powerfulness and sphere of the strike."
"The military must take every possible step to cope with possible provocations by North Korea," South Korean Minister of Defense Kim Kwan-jin said after the drill started.
South Korean President Lee Myung-bak ordered all government officials on emergency standby.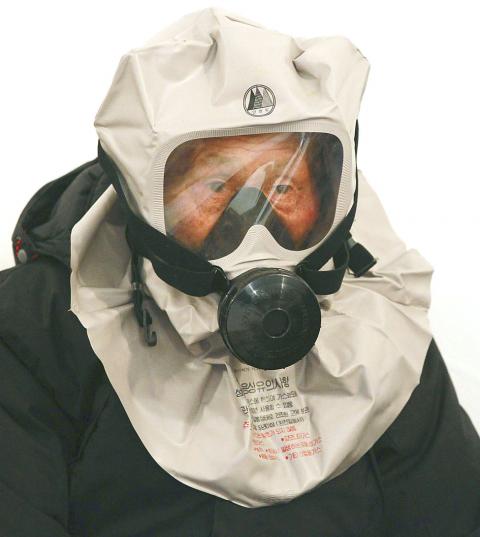 An elderly resident wears a gas mask in an air raid bunker on South Korea's Yeonpyeong Island -yesterday.
PHOTO: REUTERS
Beijing yesterday called for calm on the Korean Peninsula, saying no one had a right to "preach or promote conflict."
Earlier, China's deputy permanent envoy to the UN, Wang Min (王民) told an emergency meeting of the UN Security Council on Sunday that further bloodshed on the peninsula would be a "national tragedy," Xinhua news agency reported.
"China always maintains that peace and stability must be maintained on the peninsula. This is a goal we have been working very hard to achieve all along," Chinese Vice Foreign Minister Cui Tiankai (崔天凱) told reporters.
"No one has any right to preach or promote conflict or war, and no one has any right to cause -bloodshed between the peoples in the north and south of the peninsula," he said when asked to comment on the drill carried out by Seoul.
In his comments, delivered at a press conference following a meeting with Australian officials on human rights issues, Cui neither directly criticized the South nor warned Pyongyang against retaliation.
The Chinese official said dialogue was the only way forward to resolve the crisis.
Meanwhile, a Russian foreign ministry source told the Interfax news agency yesterday that South Korea's decision to hold the live-fire drill risks escalating tensions on the Korean Peninsula.
"The peninsula has been on the verge of armed conflict and therefore all sides should show maximum restraint and not permit actions that could spark a further escalation of tensions," the official said. "We do not consider that holding a drill meets this objective, especially with the use of live fire."
Comments will be moderated. Keep comments relevant to the article. Remarks containing abusive and obscene language, personal attacks of any kind or promotion will be removed and the user banned. Final decision will be at the discretion of the Taipei Times.