WikiLeaks: Peruvian president has 'colossal ego'
A leaked US diplomatic cable written in 2006 said that it was generally agreed that Peruvian President Alan Garcia had "a colossal ego" and cited rumors he could be afflicted by manic depression or bipolar disorder.
The cable, posted on Thursday on the Web site of the Spanish newspaper El Pais and on Friday in its print edition, also cites "widespread rumors" of Garcia's involvement in extramarital affairs.
The dispatch is one of many released by WikiLeaks in which officials have painted candid and sometimes gossipy portraits of world leaders. Many of the cables are apparently based on little more than hearsay.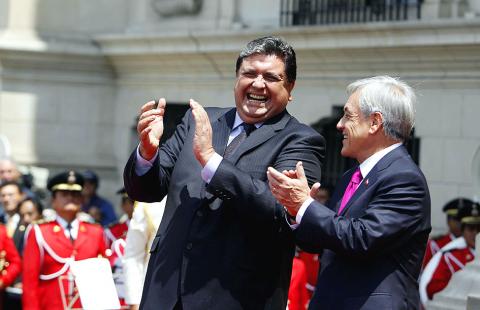 Peruvian President Alan Garcia, left, welcomes his Chilean counterpart, Sebastian Pinera, at the government palace in Lima on Nov. 25.
PHOTO: REUTERS
Garcia dismissed the cable as an amateurish joke.
"This is gossip, information you tend to get from your family, your spouse, at work from bosses, opinion, rumor," he said in a radio interview on Thursday with Radioprogramas. "I don't feel offended, nor do I give it importance. But I will say there's a lot of poor-quality diplomacy."
Other cables by US diplomats about Latin American presidents have sought information on how Argentina's Cristina Fernandez "is managing her nerves and anxiety" and passed along a rumor — later denied by Bolivia's Evo Morales, that he had a sinus tumor. Another revealed that Portuguese President Anibal Cavaco Silva had described Venezuelan President Hugo Chavez as a "crazy man," while Spanish diplomat Trinidad Jimenez described Chavez as being in "another world."
The Dec. 4, 2006, cable about Garcia, penned by then-US ambassador Curtis Struble, is a point-by-point response to "a request for information on the emotional and physical health" of Garcia, who Struble calls "a truly gifted orator" and "master politician."
It was written four-and-a-half months after Garcia, 61, assumed office for a second time.
The cable said that Garcia's health appeared good though he had clearly gained weight in recent months, and remarked on "his slightly larger jowls and a growing paunch."
"One aspect on which there is near universal agreement is that Garcia has a colossal ego," the cable said. "Reports of manic depression or bipolar disorder are impossible to confirm, but rumors in this connection are widespread."
The cable did not cite any sources by name and added that the US Embassy lacked the names and specialties of Garcia's doctors.
It also said that the embassy had "no information regarding any compulsive overeating, shopping, gambling or the like."
Struble commented on the contrast between Garcia in public and private.
"In public, he tends to strike the magisterial presidential pose, chest thrust forward, head held high, arms and hands gesturing ... prone to giving long public lectures, reflecting a know-it-all and superior tone. All this comes across as pompous and inflated," he wrote.
"By contrast, in private Garcia is a more informal, disarming and even considerate figure" and "an excellent listener."
The Peruvian leader also "has the reputation of being an acute micro-manager," the US ambassador said.
The cable commented on "widespread rumors of Garcia's numerous extramarital sexual liaisons," which was widely discussed in Peru's newspapers at the time.
At the time the cable was written, Garcia had recently publicly acknowledged fathering a child out of wedlock.
In his radio interview, Garcia remarked that the world is pretty bad off "if the United States feeds itself with such poor and superficial information."
Comments will be moderated. Keep comments relevant to the article. Remarks containing abusive and obscene language, personal attacks of any kind or promotion will be removed and the user banned. Final decision will be at the discretion of the Taipei Times.