Cuban unable to collect EU prize
FAMILIAR? An empty chair was held for Guillermo Farinas at the award ceremony in France, as no one from the Cuban government would talk to him about an exit visa
A Cuban dissident said on Tuesday he would not attend a ceremony in France to accept the European Parliament's top human rights prize because Cuban authorities had not given him permission to make the trip.
Guillermo Farinas, whose long hunger strike helped pressure Havana into releasing political prisoners this year, said he had not received the exit visa that he needed to leave Cuba for yesterday's event.
"Nobody communicated with me. Now this is impossible," he said by telephone from his home in Santa Clara, 273km east of Havana.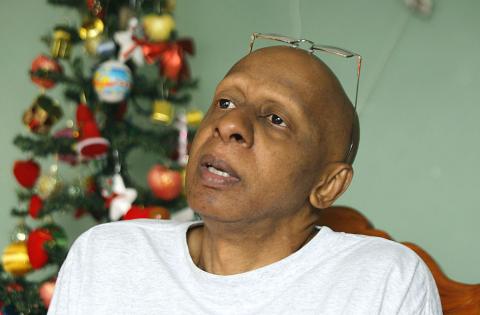 Cuban dissident Guillermo Farinas speaks at his home in Santa Clara, Cuba, on Tuesday about not being allowed to leave the country to accept an EU price in France.
PHOTO: REUTERS
The ceremony, to be held in Strasbourg, was scheduled for noon yesterday.
The European Parliament said it would transmit a message from Farinas and have an empty chair to represent him.
"I'm going to continue in my battle for democracy in Cuba, whether they let me leave or don't let me leave," Farinas said.
The Cuban government, which views dissidents as mercenaries working for its ideological enemy, the US, has said nothing about Farinas.
Farinas, a 48-year-old psychologist, went on a 135-day hunger strike this year to demand that Cuba release political prisoners.
He called it off in July when it was announced that 52 prisoners jailed since a 2003 crackdown would be released in a deal struck by the Catholic Church with Cuban President Raul Castro.
So far, 41 of the prisoners have been freed, with all but one agreeing to go to Spain. Cuban Catholic leader Cardinal Jaime Ortega has said the government has promised to release the remaining prisoners soon.
The 27-nation EU, along with the US, has long pressed Cuba to release political prisoners, improve human rights and move toward democracy.
It has recently taken steps toward improving ties with Cuba, which also seeks a normalization of relations, but only if the EU drops its common position calling for democratic change in Cuba.
The EU awarded Farinas the Sakharov Prize, named for late Soviet dissident Andrei Sakharov, in October. The prize, which has been given out since 1988, includes 50,000 euros (US$66,975).
It was awarded twice previously to Cubans — in 2002 to dissident Oswaldo Paya and in 2005 to the opposition group Ladies in White.
Paya was permitted by the Cuban government to go accept the prize, but the Ladies in White were not.
Comments will be moderated. Keep comments relevant to the article. Remarks containing abusive and obscene language, personal attacks of any kind or promotion will be removed and the user banned. Final decision will be at the discretion of the Taipei Times.