UN chief Ban warns pace of climate talks too slow
UN Secretary-General Ban Ki-moon urged governments to rise to the global-warming challenge, and Pacific islanders pleaded for haste in drafting a new pact to slow climate change before their homes are swallowed by the rising ocean.
The appeals on Tuesday came as a two-week UN climate conference moved into its final days, with delegates seeking to resolve a host of arguments barring agreements to help poor countries cope with climate change and protect the world's last native forests.
With divisions running deep, the 193-nation conclave set aside the seemingly intractable question of how much countries should reduce emissions of greenhouse gases from industry, transportation and agriculture, and focused instead on creating tools for future work.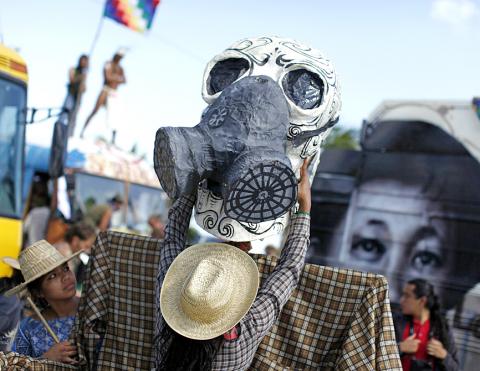 Environmental activists gather outside the Pitaya Cancun Messe on Tuesday in Cancun, Mexico, where climate talks are taking place.
Photo: REUTERS
The meeting comes one year after the disappointing climate summit in Copenhagen, and the frustration was apparent.
"I am deeply concerned that our efforts so far have been insufficient," Ban said, opening the high-level meeting of presidents, prime ministers and environment ministers. "We are still not rising to the challenge."
Ban said he was encouraged that governments had nearly met their pledges to raise US$30 billion in emergency climate funds for poor countries up to 2012, but said that didn't go far enough.
"We need to make progress on the actual delivery of funds, along with a transparent and robust accountability system," he told reporters.
Nations also had to devise ways to fulfill last year's promise made in the Danish capital to raise US$100 billion a year by 2020 to fight climate change, he said.
The world's most vulnerable nations warned the 15,000 conference participants that their situation was dire and immediate.
"The gravity of the crisis has escaped us. It has become lost in a fog of scientific, economic, and technical jargon," said Marcus Stephen, president of the island of Nauru, which has fewer than 10,000 inhabitants.
Stephen chided delegates for allowing dogmatic positions to delay the years-long negotiations.
"Our governments are not deadlocked because of ideological divisions," he said of his fellow Pacific nations.
"The oceans that once sustained us now threaten to swallow us," Palauan President Johnson Toribiong said. "The world must hear our cry for collective action to save us ... and our planet Earth."
See Archeologists on page 6 and Moved on page 14
Comments will be moderated. Keep comments relevant to the article. Remarks containing abusive and obscene language, personal attacks of any kind or promotion will be removed and the user banned. Final decision will be at the discretion of the Taipei Times.