IAEA turns up the heat on N Korea, Iran, Syria
The UN atomic watchdog expressed "great concern" on Thursday over North Korea as the US said it believed the reclusive state may have built more clandestine nuclear sites in addition to those already known.
The International Atomic Energy Agency (IAEA), holding its traditional year-end meeting at its headquarters in the Austrian capital, also turned up the heat on Syria and Iran, which are both under investigation for alleged illicit nuclear activity.
IAEA Director-General Yukiya Amano told a closed-door session of the board of governors that he was worried about reports North Korea has built a state-of-the-art uranium enrichment facility.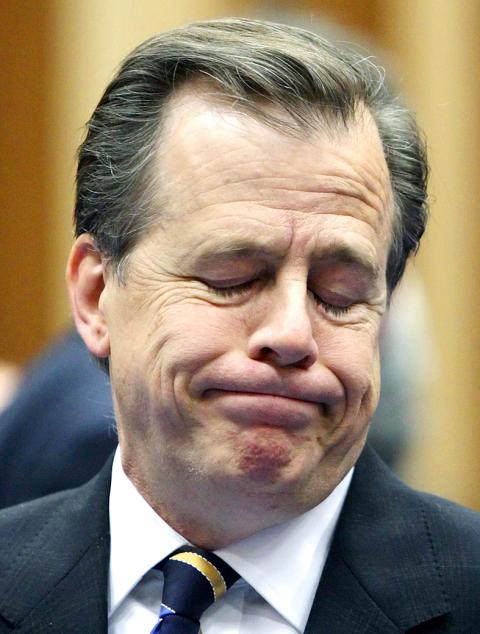 US Ambassador to the International Atomic Energy Agency Glyn Davies talks with a delegate before a board of governors' meeting at the agency's headquarters in Vienna on Thursday.
Photo: Reuters
"It was with great concern that I learned of recent reports about a new uranium enrichment facility, as well as the construction of a new light water reactor, in the DPRK [Democratic People's Republic of Korea]," Amano said.
Yongbyon
Earlier this month a US scientist revealed he had been shown a new uranium enrichment plant at the Yongbyon nuclear complex outside the capital North Korean capital, Pyongyang.
The news has heightened international concern that North Korea — which has conducted two nuclear weapons tests — could produce highly enriched weapons-grade uranium on top of the plutonium already in its possession.
The IAEA is not in a position to verify the reports since its inspectors have been barred from North Korea since last year.
Washington's envoy to the IAEA, Glyn Davies, described the revelations as "disturbing" and said "there is a clear likelihood that DPRK has built other uranium enrichment-related activities in its territory."
Amano also appeared to ramp up pressure on Syria, saying he had written to the government there for the first time to try to bring some movement into a stymied two-year-long IAEA probe.
Amano told reporters later that it was the first time that an IAEA director general had contacted the Syrian government directly about the agency's probe and diplomats close to the IAEA suggested Amano could soon start pushing for a "special inspection" in Damascus, a rarely used tool that allows UN inspectors to request more intrusive access to sites.
If Syria were to block that request, it could face referral to the UN Security Council.
Amano refused to say, however, if he was ready to take that step.
"For the time being, I am awaiting the response from Syria," he told reporters. "And while waiting, it is not appropriate for me to speculate what will happen if there is not an answer."
Syria is accused of building an undeclared reactor at a remote desert site called Dair Alzour until it was bombed by Israeli planes in September 2007.
Turning to Iran, Amano said the Islamic republic was continuing to stonewall a separate investigation there, even as he welcomed the resumption of long-stalled talks between Tehran and world powers.
Tehran was defying UN Security Council resolutions, pressing ahead with its sensitive uranium enrichment activities, and refusing to answer questions about possible military dimensions to its atomic work.
'DISTURBING'
The EU-3 grouping of Britain, France and Germany, said the IAEA's latest report on Iran "paints a very disturbing picture of Iran's behavior.
"It again testifies that Iran continues down the path of non-compliance and confrontation," a statement read out by German Ambassador Ruediger Luedeking said.
The IAEA meeting is being held just three days before much higher-level talks in Geneva, where Iran is to sit down with the so-called P5+1 grouping of Britain, China, France, Russia and the US plus Germany for the first time in more than a year.
"I would like to welcome the forthcoming meeting scheduled for next week in Geneva," Amano said.
Davies said Washington hoped the talks in Geneva would be "frank, constructive and meaningful."
Comments will be moderated. Keep comments relevant to the article. Remarks containing abusive and obscene language, personal attacks of any kind or promotion will be removed and the user banned. Final decision will be at the discretion of the Taipei Times.