British couple relish freedom after ordeal
A British couple held captive for more than a year by Somali pirates said on Sunday that they were "skinny and bony" but otherwise fine after a substantial ransom was paid to secure their release.
Taken hostage after pirates boarded their yacht during what was meant to be the retirement trip of a lifetime, Paul and Rachel Chandler, 61 and 56, from Tunbridge Wells in southeast England, landed in the Kenyan capital of Nairobi on a charter flight and were taken to a "place of safety" by diplomats from the British High Commission.
Earlier, the pirate gang holding them had ended their terrifying 388-day ordeal by handing them to officials in Adado, Somalia. An agreement to release them was finally sealed last week with the payment of the second part of a ransom reported to have totaled about US$800,000.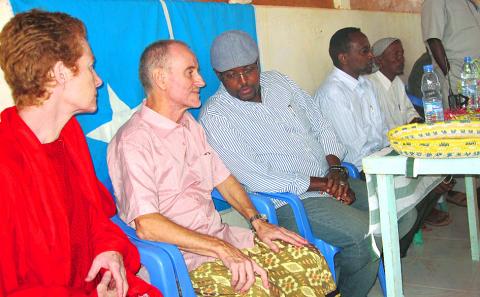 Released British hostages Paul, second left, and Rachel Chandler, far left, listen to -Mohamed Aden, third left, the mayor of Adado and one of the persons who negotiated for their release, during a celebration in Adado, Somalia, on Sunday.
PHOTO: REUTERS
"We're fine, we're rather skinny and bony but we're fine," Paul Chandler told the BBC in Adado before flying on to the capital, Mogadishu, for a brief press conference at the presidential palace.
Looking painfully thin but smiling broadly, Rachel Chandler told reporters: "We're happy to be alive, happy to be here, desperate to see our family and friends, and so happy to be amongst decent, everyday people, Somalis, people from anywhere in the world who are not criminals, because we've been a year with criminals and that's not a very nice thing to be doing."
The Chandlers' family refused to comment on how their freedom was negotiated.
"The family believes it would be irresponsible to discuss any aspect of the release process as this could encourage others to capture private individuals and demand large ransom payments," the family said in a statement.
Comments will be moderated. Keep comments relevant to the article. Remarks containing abusive and obscene language, personal attacks of any kind or promotion will be removed and the user banned. Final decision will be at the discretion of the Taipei Times.