Skyscraper inferno in Shanghai claims at least eight lives
At least eight people died as fire engulfed a Shanghai high-rise building yesterday, sending thick smoke spreading over China's commercial hub and panicked residents stumbling over each other as they fled.
The 28-story building in one of the most densely populated districts of the city of nearly 20 million people was under renovation when the blaze broke out at about lunchtime.
Spectacular bright orange flames could be seen enveloping the scaffolding and spreading to the building as the fire raged, gutting much of the structure. The smoke could be seen from several kilometers away.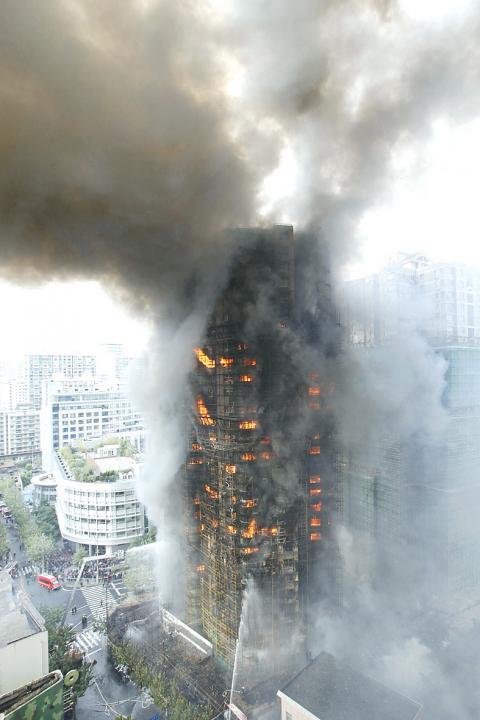 Firefighters battle to extinguish a fire in Shanghai yesterday.
PHOTOS: REUTERS
Survivor Li Xiuyun, 61, said she fled down the steps of the building with her husband, son and a granddaughter from their home on the 16th floor until they met up with firefighters who took them to safety.
"The smoke was very strong and the glass of the windows was scalding," she said at the Jingan District Hospital, adding that she cut her feet on glass when fleeing.
"My son took off his socks and soaked them with water and we used them to cover our noses. I stumbled on people on the floor when walking," she said.
The building was an apartment block for teachers, according to Xinhua news agency. Reports said most of them had already retired.
Firefighters eventually brought the blaze under control in the bottom 20 stories of the block after three hours, but flames continued to lick out of windows near the top of the building in the evening.
Some occupants had earlier been forced by the blaze out on to the bamboo scaffolding surrounding the building, according to state media reports, while pictures showed a helicopter lowering a rescuer on to the roof.
State television footage showed people, their faces smudged by soot, stumbling out of the building, grimacing in pain, with the aid of firefighters. The death toll was announced by local authorities, but reporters were was not able to immediately confirm how many people were in the building at the time of the blaze.
The Jingan District Hospital said it had taken in 55 injured victims of the fire, nine of whom were in serious condition, according to state television.
Residents said the renovations had only recently begun and believed most inhabitants were still living in the building.
Shanghai television said 61 fire engines had been called in to fight the fire, along with three helicopters.
Authorities cordoned off a one-block zone around the building and as night fell ladder trucks were still hosing water into the building, although the situation was calm.
Comments will be moderated. Keep comments relevant to the article. Remarks containing abusive and obscene language, personal attacks of any kind or promotion will be removed and the user banned. Final decision will be at the discretion of the Taipei Times.