Russian spy Chapman strips for men's magazine
Russian spy Anna Chapman has stripped off for a cover spread in a men's magazine, striking a number of James Bond-style poses in her latest stunt since she left the US, it said on Tuesday.
The publication of the pictures — which show Chapman sporting G-strings and wielding a pistol — comes after Russian President Dmitry Medvedev bestowed top state honors on the spies in the espionage scandal that brought her global stardom.
Chapman's antics since being deported from the US in July along with nine other Russian spies have by any standards been unusual for an employee of the Foreign Intelligence Service (SVR).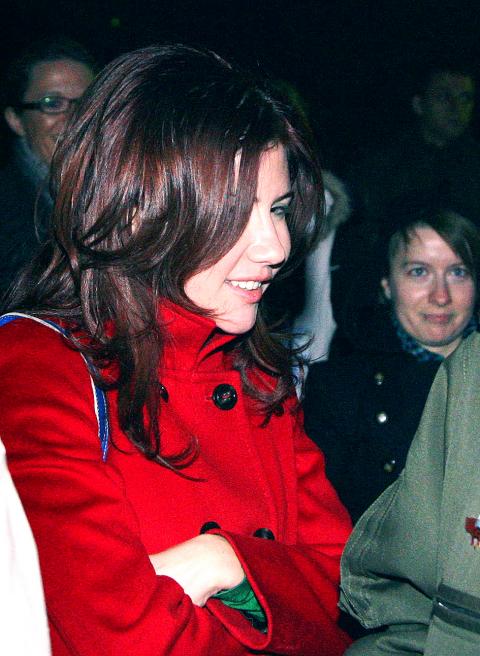 Russian spy Anna Chapman attends a farewell ceremony for the International Space Station crew at the Russian-leased Baikonur cosmodrome in Kazakhstan on Oct. 8.
Photo: AFP
They have included a (fully clothed) photo-shoot for a Russian celebrity magazine and her mysterious resurfacing at Baikonur cosmodrome earlier this month to watch Russian and US astronauts blast off into space.
The Russian men's magazine Maxim posted the new pictures in a trailer on its Web site (www.maximonline.ru), promising more images and Chapman's first interview since her exposure when the magazine is published today.
In images which are anything but subtle, Chapman is pictured as the ultimate femme fatale with her gun, elbow-length black gloves and skimpy red lingerie which leaves very little to the imagination.
"No, you are not dreaming and your eyes do not deceive you. The red-haired spy has not only stripped off for Maxim, but has broken her vow of silence, talking about men, flirting and plans for life," the magazine gushed.
"Anna has done more to arouse patriotism in Russians than our soccer team and the Bulava missile put together," it said.
Russia's national side has been through a thin period while the new Bulava nuclear-capable missile has misfired several times in testing.
"These are our heroes: a team that plays so-so, a rocket that fires so-so and a spy who crashed and burned," the Echo of Moscow radio station joked. "At least she looks good in black knickers with a bow and a pistol."
Chapman has also opened her own Web site (www.annachapman.ru), with a Soviet-style red star logo, although so far it does not have any content.
In another commercial venture, she posed for an iPhone application, launched earlier this month, which promises a game of poker with the "Russian Bond girl" and "hot" photographs.
Chapman posted a video ad for the application on her Facebook page on Tuesday.
Medvedev on Monday gave top state honors to the spies involved in the espionage scandal at a ceremony in the Kremlin, his spokeswoman said. No further details were given and it was not clear if Chapman was among them.
Comments will be moderated. Keep comments relevant to the article. Remarks containing abusive and obscene language, personal attacks of any kind or promotion will be removed and the user banned. Final decision will be at the discretion of the Taipei Times.