Iran to open hikers' spy trial on Nov. 6: lawyer
Iran will begin trying three American hikers on espionage charges on Nov. 6, their lawyer told reporters yesterday, as US Secretary of State Hillary Rodham Clinton said there was no basis for a trial.
Two of the three hikers, Josh Fattal and Shane Bauer, have been held in a Tehran jail for more than a year, while Sarah Shourd was released on bail of about US$500,000 last month.
"It is true that on Nov. 6 their trial will start at 10am," lawyer Masoud Shafii said, adding that judge Abolqasem Salavati would preside over proceedings.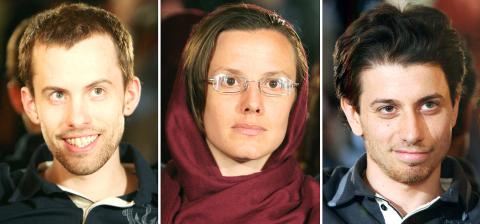 A picture combo dated May 20 shows detained US hiker Shane Bauer, left, bailed hiker Sarah Shourd, center, and detained hiker Josh Fattal during a meeting with their mothers in Tehran.
Photo: AFP
Salavati has overseen a string of trials of defendants charged with anti-Iran or anti-revolution activities, particularly cases connected with huge street protests that followed Iran's controversial presidential election last year.
He also presided over the trial of French academic Clotilde Reiss, who was arrested during the election unrest and later freed after paying a fine of US$285,000.
Shafii said he had informed the families of the three hikers of the trial date.
"The three are accused of espionage and illegally entering the country," he said, adding it was up to the family of Shourd, who returned to the US on her release, to decide whether she should attend the trial.
"If she is not present, it will hurt her bail. I cannot request that she be present. It is up to them to decide. I as a lawyer have only informed them of the time of the trial and I will execute my duty to defend the three," he said.
After Shourd's release on bail, Tehran prosecutor Abbas Jafari Dolatabadi warned that if she did not appear in court, the surety would be "seized" and she would be tried in absentia.
On Tuesday, Clinton renewed appeals for the release of the two men still in custody on "humanitarian" grounds and said she was aware that their trial had been set for Nov. 6.
"We do not believe that there is any basis whatsoever for them to be put on trial and we regret that they and their families are being subjected to a criminal system that we do not think in any way reflects their actions," she said.
"So it's our continuing request to the Iranian government that, just as they released the young woman, that they release these two young men," Clinton said, adding "it's unfortunate" the pair had been held for more than a year.
Iranian authorities arrested the three hikers on July 31 last year after they strayed across the border from Iraq, and accused them of "spying and illegally entering the country."
The three have denied the charges, insisting that they mistakenly entered Iran after getting lost during a trek in Iraqi Kurdistan.
Shourd, 32, was released on bail on Sept. 14, but had to leave behind her fiance Bauer and friend Fattal.
Oman, a Gulf Arab sultanate that maintains relations with Iran as well as close ties with the West, reportedly helped broker a deal paving the way for her to be granted bail.
Comments will be moderated. Keep comments relevant to the article. Remarks containing abusive and obscene language, personal attacks of any kind or promotion will be removed and the user banned. Final decision will be at the discretion of the Taipei Times.