Nuclear plant in Armenia given a new lease on life
A short drive from the Armenian capital, the enormous cooling towers of the Metzamor nuclear power station sit in a seismic zone that has suffered one of the worst earthquakes in modern history.
The international community has long pleaded with Armenia to shut down the Soviet-era plant, which is only 30km from Yerevan and its 1.1 million residents, and close to the border with eastern Turkey.
But now the controversial station is being given a new lease on life. Under a recent deal, Russia has agreed to help build a new reactor unit for Metzamor that will extend its life by decades.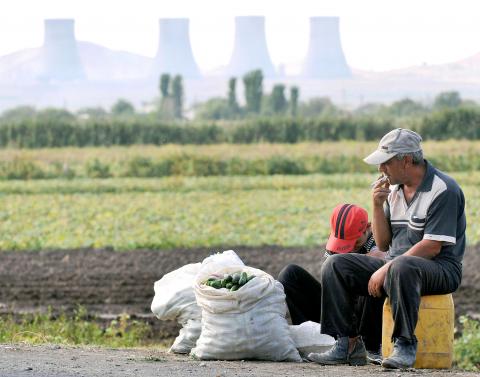 A man and his son sell cucumbers in the vicinity of the Metzamor nuclear power station outside Yerevan, Armenia, on Sept. 26.
Photo: AFP
Armenian authorities insist that the resource-poor country, which relies on Metzamor for 40 percent of its electricity needs, has no choice but to keep the plant alive.
Local environmentalists, however, are calling on the government to drop the plan, saying the risk of a nuclear accident so close to the capital is too high.
"Those who are deciding to build a nuclear power station in such a place are simply not thinking about the future of the Armenian people and don't realize the catastrophic consequences it could have," said Hakob Sanasarian, the chairman of the Yerevan-based Green Union environmental group.
Launched in 1976, the Metzamor plant featured two VVER nuclear reactors, a design that continues to be used throughout the former Soviet Union and eastern Europe.
The plant was shut down in 1988 following the Spitak earthquake in Armenia, which killed 25,000 people and caused widespread devastation. However, Armenian authorities restarted one reactor unit at the plant in 1993 following energy shortages that were causing heavy deforestation. Suffering from an economic blockade imposed by neighbors Turkey and Azerbaijan over its support for ethnic Armenian separatists in Azerbaijan's breakaway Nagorno-Karabakh region, Armenia also needed to restart the plant to generate much-needed revenues from electricity exports.
Concerned over the plant's high-risk location and aging facilities, the EU in 2004 offered to provide 100 million euros (US$135 million) in compensatory aid if Yerevan agreed to shut down the reactor.
Authorities have instead decided to upgrade the facility, approving the construction of the new 1,060-megawatt reactor unit at an estimated cost of up to US$5 billion.
Armenia signed an agreement with Russia to form a joint venture to build the unit during a visit by Russian President Dmitry Medvedev in August and construction is expected to begin next year.
"For a country like Armenia, which has no great energy resources such as oil and gas but does have an education in producing nuclear power, atomic energy is the best solution," Armenian Energy Minister Armen Movsisian said.
On the streets of Yerevan, residents said they had mixed feelings about keeping the plant alive. Many were worried about the risks it posed, but also said they had no desire to return to the power shortages of the early 1990s, when Yerevan often had electricity for only an hour or two per day.
"We all live in constant fear since there is always the danger of an earthquake and of course there is a huge risk from the nuclear station," said Ashot Sagatelian, a 53-year-old shop owner. "But what are we supposed to do if we have no other source of energy? My children grew up in the darkness and cold of the '90s ... It was a complete nightmare."
Comments will be moderated. Keep comments relevant to the article. Remarks containing abusive and obscene language, personal attacks of any kind or promotion will be removed and the user banned. Final decision will be at the discretion of the Taipei Times.