Hong Kong seizes S Korean tank
Hong Kong customs agents have seized a high-tech amphibious tank bound for South Korea after the military vehicle was discovered at one of the city's vast container ports, a report said yesterday.
The disarmed Korean-made K-21 light tank, one of the most advanced land weapons under development in Asia, had been shipped back from Saudi Arabia earlier this month without proper licenses, the South China ­Morning Post said.
No arrests have been made since the seizure on Saturday, while South Korean officials declined comment because they had not yet been informed of the discovery, the Post reported.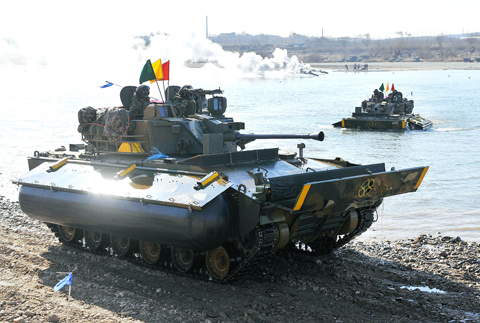 South Korean K-21 amphibious armored vehicles cross a river as part of a military drill in Yeoju, southeast of Seoul, in preparation for a possible North Korean attack on Dec. 16 last year.
PHOTO: AFP
"It is alleged that the consignment is an exhibition item," a senior customs officer told the paper. "Initial investigations indicate that it is not an out-of-service tank and it appears to be quite new and built for the purpose of exhibition."
The tank was supposed to be loaded onto another vessel and leave Hong Kong yesterday, another customs officer told the Post.
"The tank was discovered as it was stored in a soft-topped container and its shape could be easily seen from the top of the container," the officer was quoted as saying. "Investigations indicate its final destination is Pusan, South Korea."
The seizure comes after South Korea's defense ministry said it was investigating design flaws in the light tanks, which were launched late last year, the Post said.
A South Korean soldier died in July after the 26-tonne vehicle he was traveling in sank during a river crossing, the Post said.
Some media reports suggested a faulty pump was to blame for the accident.
The tank was developed over a decade by the South Korean defense ministry and local defense firms, the paper said.
Comments will be moderated. Keep comments relevant to the article. Remarks containing abusive and obscene language, personal attacks of any kind or promotion will be removed and the user banned. Final decision will be at the discretion of the Taipei Times.