Rains, landslides kill at least 20 in Guatemala
HIT FROM BOTH SIDES Tropical weather systems formed in both the Pacific Ocean and the Gulf of Mexico have brought flooding to the region
At least 20 people were killed in Guatemala on Saturday, including a dozen on a bus that was buried in a landslide, as heavy rains lashed the Central American nation and southern Mexico.
Guatemalan President Alvaro Colom has declared a national emergency in the wake of the disaster.
A dozen people died when the bus they were traveling on was suddenly engulfed by mud around 8am on the Inter-American highway 80km outside of the Guatemalan capital, emergency workers said.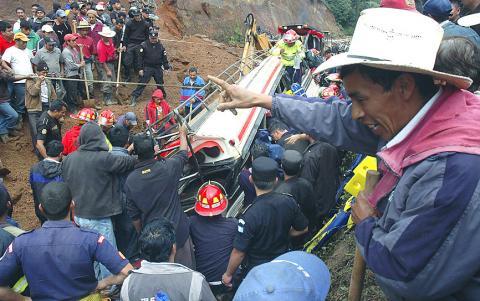 Rescuers stand around a bus buried in a landslide on the Inter-American highway, 80km outside of Tecpan, Guatemala, on Saturday.
PHOTO: REUTERS
Another eight people were killed in separate incidents, Guatemalan Colom told reporters.
Tropical weather systems in both the Pacific and the Gulf of Mexico have triggered torrential rains throughout Guatemala and southern Mexico.
Constant rain in the region over the past week has left hillsides saturated with water, and with more precipitation forecast for yesterday, officials in both Guatemala and Mexico were taking precautions against landslides.
Colom said damage estimates across Guatemala stood at US$350 million to US$500 million.
Heavy flooding in the Mexican Gulf state of Tabasco forced thousands of people from their homes. Authorities in neighboring Chiapas and Oaxaca states, which border Guatemala, and the Gulf state of Veracruz also reported serious flooding.
"The bad weather in the ­southeast has caused the worst rainy season on record. We are marshaling aid for the affected area," Mexican President Felipe Calderon wrote on his Twitter page.
The state power monopoly opened floodgates on some hydroelectric dams in the region, worsening the flooding in some low-lying areas.
No deaths were blamed on the flooding in Mexico.
Comments will be moderated. Keep comments relevant to the article. Remarks containing abusive and obscene language, personal attacks of any kind or promotion will be removed and the user banned. Final decision will be at the discretion of the Taipei Times.