UK pushes for market access in China
Britain yesterday pressed China for better market access for foreign companies, underlining growing worries in the US and the EU about the difficulty of operating in the world's third-largest economy.
Foreign investors have generally enjoyed steadily widening business opportunities in China, especially since Beijing joined the WTO in 2001 and opened new sectors to investment and competition.
That trend is now bumping up against inconsistent applications of regulations, concerns over registering and protecting intellectual property and indigenous innovation rules.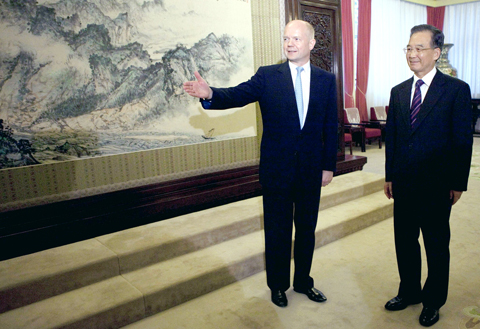 British Foreign Secretary William Hague, left, gestures to introduce fellow officials to Chinese Premier Wen Jiabao, right, during their meeting at Zhongnanhai in Beijing yesterday.
PHOTO: AFP
"There's a big economic opportunity, but just as we favor China having improved access to EU markets, well, there's a reciprocal side of that, which is improved access to China for British and other European companies," British ForUK pushes for market access in Chinaeign Secretary William Hague told reporters in Beijing.
Hague said he had raised specific cases of restrictions faced by British business in talks with his Chinese counterpart, Yang Jiechi (楊潔篪), and would take up some of the issues when he met Chinese Premier Wen Jiabao (溫家寶).
"I do think there's a very important role for British diplomacy in that sense," Hague said.
The British embassy said later in a statement that some of the issues raised included China's indigenous innovation rules and a request for preparations for foreign stock market listings in Shanghai to be speeded up.
There was also a request for progress on new rules to allow secondary listings of Chinese firms in London.
The statement mentioned no companies by name, citing commercial sensitivities.
A survey of EU businesses released on June 29 showed that optimism had dropped sharply because of concerns about regulatory interference and unpredictability.
Comments will be moderated. Keep comments relevant to the article. Remarks containing abusive and obscene language, personal attacks of any kind or promotion will be removed and the user banned. Final decision will be at the discretion of the Taipei Times.