Brazil floods, landslides kill 145
'BETTER THAN YESTERDAY' Rio Mayor Eduardo Paes said the situation was improving, but schools remained closed and the governor called three days of mourning
Rescuers searched for flood and landslide survivors in southeastern Brazil on Wednesday as the death toll neared the 150 mark following the heaviest downpours in almost half a century.
Civil defense officials late on Wednesday said that 145 people were confirmed dead — not counting up to 60 people who may have been buried when a landslide destroyed some 45 homes in Niteroi, a city across the bay from the state capital and part of the greater Rio de Janeiro metropolitan area.
There were people inside at least 30 of the stricken homes in Niteroi, Globo TV news reported, citing sources at the mayor's office and firefighters. It said two bodies had already been removed from the landslide site.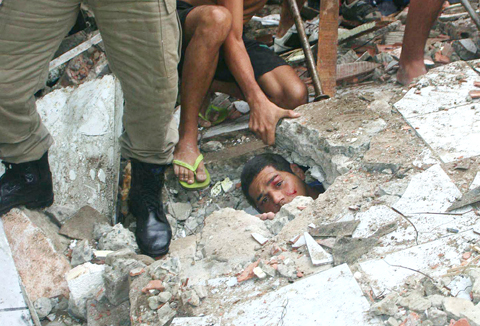 Rescuers work to extricate Carlos Eduardo dos Santos from the ruins of a house knocked down by a landslide in Rio de Janeiro, Brazil, on Wednesday.
PHOTO: AFP
Images broadcast by a Globo helicopter showed firefighters struggling to rescue survivors from piles of mud-covered rubble and twisted metal.
Globo said rescuers eventually asked the helicopter to leave so they could listen for sounds from buried survivors.
The toll was likely to rise further as dozens of people were reportedly still missing following the rains, which displaced more than 1,400 people and destroyed scores of homes.
Flooding over the past days has been so intense that authorities urged area residents to remain indoors.
Heavy rain, which began on Monday, fell intermittently on Wednesday amid sunny spells, providing hope that the worst was over.
Emergency officials said most fatalities were in hillside slums around the city of Rio de Janeiro, where torrents of water triggered devastating mudslides and scenes of chaos.
Trash, stones and rubble dotted the muddy hills of Niteroi on Wednesday, alongside precarious homes.
"People have nowhere to go, they're all doomed," said Vinicius Gomes, the cousin of a landslide victim.
Various officials and Brazilian President Luiz Inacio Lula da Silva criticized decades of administrative malfeasance, which allowed shoddy home construction in high-risk zones.
"Our aim now is to save lives. Of course we'll have to remove houses from risk areas in Niteroi," local mayor Jorge Silveira told journalists.
A majority of the casualties were trapped in landslides in the slums around Rio, a city of some 16 million people that will host the World Cup football tournament in 2014 and the 2016 Summer Olympics.
Many sports grounds and gyms were flooded, including the famous Maracana stadium.
The situation "is better than it was yesterday," Rio de Janeiro Mayor Eduardo Paes told a news conference, speaking before the Niteroi landslide.
Paes nevertheless maintained the maximum alert level and urged people in high-risk areas to evacuate their homes.
Paes ordered schools in Rio closed on Wednesday for a second day, while state governor Sergio Cabral decreed three days of mourning.
The killer floods wreaked havoc with air traffic, delaying most international flights in and out of Rio's Antonio Carlos Jobim airport and forcing the cancelation of many domestic services.
Brazil had already seen deadly deluges in Sao Paulo earlier this year after the wettest summer in the region in more than six decades.
National weather service Inmet said Tuesday's rainfall was the heaviest in 48 years.
Comments will be moderated. Keep comments relevant to the article. Remarks containing abusive and obscene language, personal attacks of any kind or promotion will be removed and the user banned. Final decision will be at the discretion of the Taipei Times.