Key challenger to Bashir quits race
Key Sudanese presidential hopeful Yassir Arman has pulled out of this month's vote, leaving the way clear for a first-round win by Sudanese President Omar al-Bashir unless the opposition finds a single candidate.
The move, announced by Arman's former rebel group, came on Wednesday after Bashir ruled out deferring the first multi-party polls in 24 years.
"I took the decision to withdraw for two reasons. Firstly, after having campaigned in Darfur, I realized that it was impossible to hold elections there due to the current state of emergency," Arman said yesterday.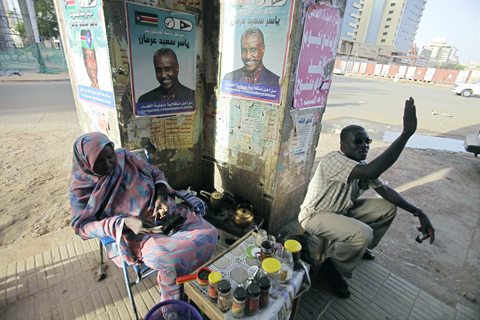 Vendors sit in front of election campaign posters of Yasser Arman, an opposition candidate for the Sudan People's Liberation Movement, in Khartoum on Wednesday.
PHOTO: REUTERS
"Secondly, there are irregularities in the electoral process, which is rigged," he said.
Emphasizing that his fight would continue despite his pullout from the race, Arman said: "President Bashir is a burden for Sudan and for his own party. He's been leading Sudan for over 20 years. That's enough."
Bashir had told a political rally in Damazin, the capital of the Blue Nile state: "The elections will not be postponed or cancelled. They will take place on time."
"Our partner [in the government], the Sudan People's Liberation Movement [SPLM], agrees with us," that the presidential, legislative and municipal elections should be held as planned on April 11 through April 13, Bashir said.
A few hours later, however, an SPLM party official dropped the bombshell and announced that Arman was quitting the race.
He said, however, that the SPLM would present candidates to regional and legislative elections "across Sudan, except for Darfur."
Arman, 49, a secular Muslim from North Sudan, was selected in January by his former rebel group to challenge Bashir in this month's presidential election and was regarded as a leading candidate.
His withdrawal means Bashir is assured of re-election in the first round of voting, unless the opposition parties, which were scheduled to meet yesterday to decide whether to boycott the election, can come up with a single candidate.
Comments will be moderated. Keep comments relevant to the article. Remarks containing abusive and obscene language, personal attacks of any kind or promotion will be removed and the user banned. Final decision will be at the discretion of the Taipei Times.