Blackouts, minor clashes in protest-plagued Greece
Police scuffled with demonstrators in Athens late on Tuesday as the government faced fresh opposition to its austerity measures, despite signs that markets are beginning to respond positively to Greece's drastic cuts.
Riot police fired stun grenades to disperse rock-throwing youths outside parliament during a brief flare-up of violence after 2,000 people took part in a protest march.
Greece's state power company began rolling blackouts — affecting parts of the northern city of Thessaloniki and other places, as well — after workers at the utility went on a 48-hour strike to protest pay cuts.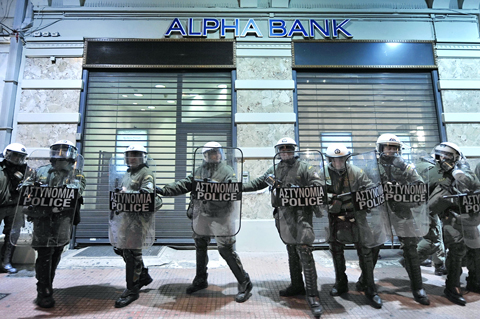 Riot police guard a closed bank branch during a demonstration by civil servants against the government's recent economic austerity measures, in Athens, Greece, yesterday.
PHOTO: AFP
State hospital nurses staged a one-day strike and 400 union members demonstrated peacefully outside the health ministry in Athens.
Greece is under pressure from the EU to control its finances, after its mounting debts hit confidence in the euro and jolted world markets.
Athens has pledged to slash its budget deficit from an estimated 12.7 percent of GDP last year to 8.7 percent this year and bring it under the EU limit of 3 percent in 2012.
The government announced a 4.8 billion euro (US$6.63 billion) austerity package this month, including cuts in civil servants' pay, pension freezes and consumer tax increases. A sales tax hike from between 19 percent and 21 percent this week has increased the cost of fuel and other consumer goods and services. The draft tax bill has been submitted to parliament for discussion.
Ratings agency Standard & Poor's took Greece off credit watch on Tuesday, winning the country some respite from market pressure. It said the austerity package was "appropriate" for budget-reduction targets.
Comments will be moderated. Keep comments relevant to the article. Remarks containing abusive and obscene language, personal attacks of any kind or promotion will be removed and the user banned. Final decision will be at the discretion of the Taipei Times.