UK to hold talks on fighting extremist groups in Yemen
UP IN ARMS The US said last week that it would sharply increase its military and economic aid to the Gulf state to fight a growing menace from al-Qaeda
British Prime Minister Gordon Brown called an international meeting on Friday on combating extremism in Yemen, after an alleged attempt to blow up a US airliner threw the spotlight on militancy there.
Brown's office said the meeting would take place in London on Jan. 28, running "in parallel" with a conference on Afghanistan that is expected to be attended by senior ministers or leaders from about 43 countries.
Longstanding concerns that Yemen has become a haven for Islamic terror groups were thrown into sharp relief when a Nigerian man allegedly trained in the Gulf State was charged with trying to blow up a US airliner on Dec. 25.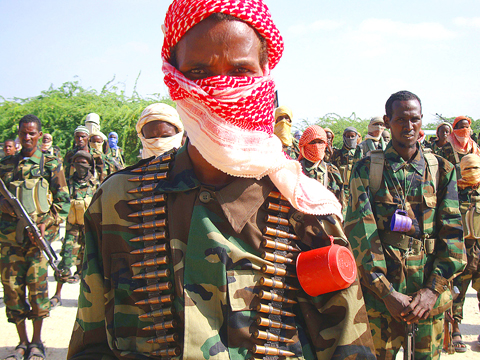 Militant fighters stand during an exercise in northern Mogadishu on Friday. Group leaders said they are prepared to cross the Gulf of Aden to assist Islamist fighters in Yemen.
PHOTO: AFP
Umar Farouk Abdulmutallab, 23, reportedly confessed to being trained by an al-Qaeda bombmaker in Yemen for his alleged mission to blow up the plane as it came into land in Detroit, sparking a major international security scare.
The US said last week that it was sharply increasing its military and economic aid to the Gulf state to fight a growing threat from al-Qaeda, and Brown said it was vital to mobilize international support.
"The international community must not deny Yemen the support it needs to tackle extremism," the British prime minister said.
He has invited "key international partners to a high-level meeting in order to discuss how best to counter radicalization in Yemen," Brown's office said.
The aims of the London meeting would include identifying what the Yemeni government needs to help it fight violent Islamic extremism and coordinating assistance for areas most at risk of becoming radical, it said in a statement.
The attempted attack on the US plane renewed long-held concerns that Yemen, the poorest Arab country, is a base for violent extremism.
The Washington Post and the New York Times said that electronic communications intercepted from Yemen by the NSA had warned that an unidentified Nigerian was training for an ­al-­Qaeda mission.
Meanwhile, al-Qaeda in the Arabian Peninsula (AQAP) has claimed it was behind the plot. US officials have refused to confirm this, but said there was some "linkage" with al-Qaeda.
The US has been helping Yemen to train and equip its forces since 2006, and officials say its contribution is expected to rise to US$63 million in development and security assistance this fiscal year.
Both countries are sharing intelligence and the US is widely suspected of having helped Yemeni forces conduct airstrikes against al-Qaeda targets in the past few weeks.
Yemeni raids in the center of the country and the Sanaa region last month killed more than 60 Islamist militants, while several rebels were also wounded in clashes last week.
Comments will be moderated. Keep comments relevant to the article. Remarks containing abusive and obscene language, personal attacks of any kind or promotion will be removed and the user banned. Final decision will be at the discretion of the Taipei Times.