Tale of crime and corruption appalls Indians
HORROR STORY The sexual assault of 14-year-old Ruchika Girhotra by a police officer in 1990 has shone a light on an alleged nexus of corruption in Indian society
A Kafkaesque tale of crime, suicide and corruption has appalled India over the last week, causing outrage even in a country long accustomed to the transgressions of those in power.
The sexual assault of Ruchika Girhotra, 14 at the time of the crime, by a police officer in 1990 has shone a light on an alleged nexus of corruption with tentacles that reach through the police, bureaucracy and political class. What has disgusted observers, and led to a concerted "Justice for Ruchika" campaign, is the alleged scale of the abuse of power that is shaking already rock-bottom confidence in public institutions.
"Police have become terrorists of the worst kind, but everyone has been collaborating or colluding," Supreme Court lawyer and women's advocate Rani Jethmalani said. "The institutions which are responsible for responding have failed the victim and family, including the judiciary."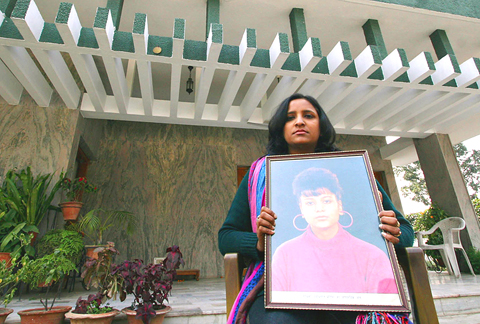 Aradhna Gupta, who witnessed the assault on her best friend Ruchika Girhotra in 1990, holds a portrait of Ruchika outside the Girhotra residence in Panchkula, India, on Wednesday.
PHOTO: AFP
Nineteen years ago, S.P.S. Rathore, a senior police official in the northern state of Haryana, molested Girhotra after arranging to meet her at the local lawn tennis club, of which he was president.
Girhotra, a middle class girl and promising tennis player, dared to lodge a complaint against Rathore, now 67, setting off a chain of events which are only now coming to light.
An internal police probe in 1990 into the assault recommended a case be filed, but Rathore was promoted and his influence grew further when he was later named as the top police officer for the entire state.
Girhotra, meanwhile, was expelled from her prestigious private school within months of the attack.
The expulsion, the family claims, was part of a campaign of intimidation and harassment designed to force the family to drop their complaint and prevent any prosecution of the policeman.
Girhotra's brother, Ashu, was accused of theft and then abused in jail at Rathore's orders, the family claim.
Rathore's wife Abha, who is also his legal counsel, has blamed the media for creating "hype" and accused Girhotra's family of "forging the facts," the Press Trust of India news agency reported.
Tormented by the stress she believed she had inflicted upon her family, Ruchika Girhotra finally poisoned herself in 1993 at the age of 17. Her brother was released from jail soon after she died.
Nineteen years after the original assault — a long time even by Indian standards — a court last week found Rathore guilty of molestation and sentenced him to six months in jail and a 1,000 rupee (US$20) fine.
Rathore emerged from the courtroom grinning, while Girhotra's supporters were outraged that he had received such a light sentence and was immediately granted bail. They had wanted him charged with abetting the suicide of a minor, which carries a maximum sentence of the death penalty or life imprisonment.
"Any abuse of personal authority must be prevented at any cost," anti-corruption watchdog chief vigilance commissioner Pratyush Sinha said this week. "This is a very bad example of what somebody can do with the system and get away."
Rathore is alleged to have used his clout as a senior police officer to bribe his way out of multiple investigations. Ruchika Girhotra's father also alleges that the results of the post mortem examination and inquest were doctored by the police.
R. Singh, a former official with the Central Bureau of Investigation (CBI), India's top police body, told a newspaper that Rathore in 1998 offered him help with building a new house in return for a "favorable report."
The family of Ruchika Girhotra's best friend, Aradhna Gupta, who witnessed the assault and has waged the legal battle on her behalf since, also say they were subjected to intimidation aimed at forcing them to back down.
Aradhna Gupta's father, Anand Prakash, an engineer with a state agency, was repeatedly told to drop the case or face consequences. He was eventually fired.
Aided by blanket media coverage in India's aggressive newspapers and television channels, a fightback is beginning.
Haryana police on Tuesday registered two new cases against Rathore for harassing the Girhotra family and a petition has also been filed against Ruchika Girhotra's school for throwing her out. Many are now clamoring for a new trial and the government is reviewing legislation to fast-track sex assault cases.
Politicians who knew of the case against Rathore now stand accused of doing nothing to prevent his rise to the top of the police force.
"This particular case is tragically revealing the sickness in the entire system," said Pinki Virani, an author and journalist who has written on sexual assault.
Comments will be moderated. Keep comments relevant to the article. Remarks containing abusive and obscene language, personal attacks of any kind or promotion will be removed and the user banned. Final decision will be at the discretion of the Taipei Times.