Bombs leave 20 dead in Anbar
GOVERNOR WOUNDED A hospital source said the governor came from his office to inspect the damage after a first attack, at which point the second attacker struck
At least 20 people were killed and more than 100 were wounded in twin bomb attacks yesterday in Iraq's Anbar province, police said.
The attack appeared to target senior officials in western Iraq, and the governor of Anbar Province was taken to hospital after the second bombing.
Al-Iraqiya state television initially reported that Qassim Mohammed, governor of the mainly Sunni Arab province west of Baghdad, was killed in the attacks near the provincial government headquarters in Ramadi, the provincial capital.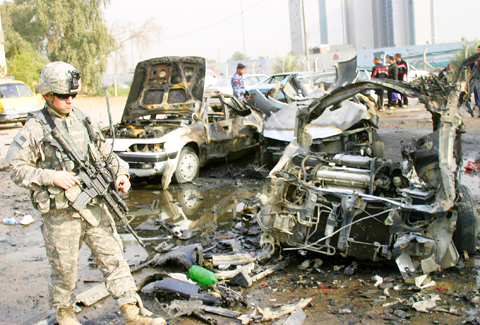 A US soldier patrols the site of a bomb attack in Baghdad on Tuesday that wounded four people. More than 20 were killed and 100 injured yesterday by twin bombs in western Iraq.
PHOTO: REUTERS
But Deputy Governor Hikmet Khalaf later said in a phone call that Mohammed was still alive and had been taken to hospital.
Jassim Mohammed, who heads the Anbar provincial council, also said the governor was alive. State TV later ran a similar report from the provincial council head.
State TV also said a member of the provincial council and the deputy police commander had been killed in the blasts.
Police in Ramadi said the attacks took place in quick succession in the city, located 100km west of Baghdad.
Many of those wounded were from Iraqi security forces.
Police Colonel Jabbar Ajaj said the first blast, in which a suicide bomber detonated explosives in a vehicle, was followed shortly afterwards by a second suicide attack, this time carried out by a bomber on foot.
A source at the hospital said that, after the first attack took place near the provincial headquarters, the governor came out from his office to inspect the damage.
Then the second attacker struck.
One of the attackers was a man working as a bodyguard for the governor, Iraqiya reported.
Comments will be moderated. Keep comments relevant to the article. Remarks containing abusive and obscene language, personal attacks of any kind or promotion will be removed and the user banned. Final decision will be at the discretion of the Taipei Times.