Quake-hit Indonesian city sprayed to prevent disease
'NICE WORDS' As rescue attempts gave way to relief efforts following last week's earthquake, villagers said they were going hungry despite radio reports of aid
Health workers fanned out across Padang yesterday to douse the Indonesian city with disinfectant over concerns about disease outbreaks six days after a deadly earthquake rattled Sumatra.
The rescue mission in Padang — a port city of 900,000 — and in surrounding hills devastated by landslides has now turned to a huge relief effort to help thousands who have lost their homes. While aid has poured into the area, the scale of the disaster, heavy rains and damage to roads has meant that some relief supplies have built up at various points, triggering anger on the ground.
"I have seen reports on TV of boxes piling up at the airport and not making it to victims. That's not fair. Those are the secondary items, not the priority items like food and water," said Gamawan Fauzi, the governor of West Sumatra.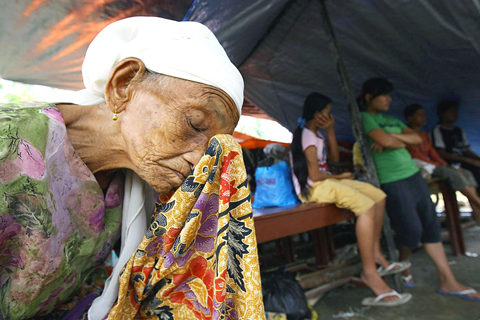 Beran, an 80-year-old who lost her entire family in a powerful earthquake last week, waits for food inside her tent at Damar Bancah Village, Indonesia, yesterday.
PHOTO: EPA
On Monday, correspondents in a number of different areas were told by villagers that little if any aid had arrived.
"Yesterday all I had to eat was a packet of instant noodles. All of us are hungry. We hear on the radio very nice words that aid is pouring in, but where is it?" asked Erol, a resident with a 10-day-old infant in Pasa Dama, a village near Padang.
Fauzi denied that any of the aid supplies were falling into the wrong hands.
"The receipt of aid is signed off by the head of each sub-district. So we know what they have received. I think the risk of corruption is small, but if anyone is caught doing that they must punished," Fauzi said.
The governor said rotting bodies were a big hazard to health now and experts were monitoring for cases of cholera and tetanus.
"We have sent out of a lot of disinfectant and we will spray in Padang today," he said.
On Monday evening, Indonesian President Susilo Bambang Yudhoyono criticized local officials in the quake-hit area for not focusing enough on emergency needs and too much on reconstruction needs.
"What I want to know is what is being done for emergency steps, such as food supply, electricity supply, fuel supply and other aspects," Yudhoyono said before a Cabinet meeting.
The president also called for an Aceh-style reconstruction.
"In my view I think we could implement what has been done in Aceh, Nias and Yogykarta," he said.
The rebuilding of Aceh on the northern tip of Sumatra after the 2004 tsunami has largely been held up as success, while massive rehabilitation also took place on the island of Nias, also in Sumatra, and in the city of Yogyakarta in Java after quakes.
Yudhoyono thanked Saudi Arabia for donating US$50 million to the recovery effort. Aid from at least 16 nations and international bodies has arrived since last week, although foreign search and rescue teams are now leaving.
Indonesia's official death toll from the quake is 625 dead and 295 missing, but Indonesia's health minister has said the toll could reach as high as 3,000.
Comments will be moderated. Keep comments relevant to the article. Remarks containing abusive and obscene language, personal attacks of any kind or promotion will be removed and the user banned. Final decision will be at the discretion of the Taipei Times.