Brown urges his party not to give in
'LABOUR'S LOST IT' The British media praised Gordon Brown's speech as fiery enough to hearten his party, but promised little change after 12 years of government
British Prime Minister Gordon Brown on Tuesday battled to inject self-belief back into his party by vowing to fight next year's UK general election on the side of "squeezed middle classes," saying Labour would challenge the moral delinquency of bankers at the apex of society and teenage tearaways blighting lives in some of the country's poorest communities.
"We are not done yet," Brown said at Labour's annual conference, urging his party: "Now is not the time to give in, but to reach inside ourselves for the strength of our convictions."
Brown hopes the speech, which was unusually rich in policy detail, finally puts paid to any challenge to him before the next election — and translates into a lift in the polls that will stop Labour members of parliament (MPs) panicking as the parties enter the new year.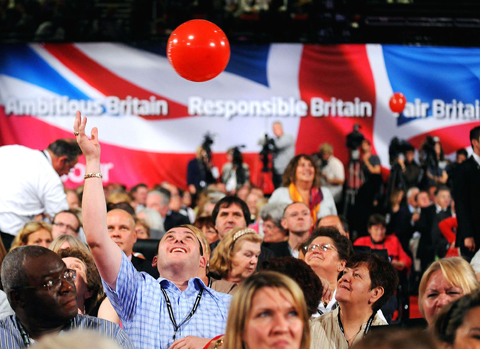 Labourites play with a red balloon prior to British Prime Minister Gordon Brown's keynote speech during the Labour Party Conference in Brighton, England, on Tuesday.
PHOTO: EPA
Rejecting the claim that after 12 years in power the government was exhausted, he offered an array of social reforms designed to appeal to middle Britain, ranging from a right for voters to recall errant MPs, to free personal care for some elderly people, a crackdown on 24-hour drinking and supervised state hostels for teenage mothers.
He also came out personally in favor of electoral reform for the first time, but angered campaigners by promising only the Labour manifesto will contain a commitment to hold a referendum on the issue after the election.
Treasury sources said Brown agreed in negotiations before the speech not to make any pledges that would entail a net increase in government spending, even though he promised he would protect the schools budget and enshrine in law the government commitment to lift the aid budget to 0.7 percent of GDP.
Skeptical backbench MPs doubted whether the speech would change Labour's fortunes, with the leading rebel Barry Sheerman saying it would be impossible to tell how the British people view Brown until "the dust has settled in two weeks' time."
But Cabinet colleagues, including Home Secretary Alan Johnson, repeatedly rallied to the prime minister.
"Anyone who thought that we were on our knees, anyone who thought that we had given up and were prepared to just drift out of power know quite clearly now that we are not — it's game on," he said.
Meanwhile, British media said Brown's address had been fiery enough to hearten his embattled governing party and stave off a leadership challenge ahead of the election which must be held in June. However, they concluded that he would fail to lead his party to victory at the elections.
Many of the newspapers said he was a dedicated leader trying to do his best for the recession-hit country saddled with dire public debt.
"Brown came across as a serious and experienced man who means well for this country," wrote columnist Polly Toynbee in the Guardian.
"Nobody can doubt the dedication of Gordon Brown — or the love and loyalty of his wife Sarah, who delivered a moving plea on his behalf yesterday," the Sun said in its editorial.
However, all concluded Brown would fail to sway voters as the speech promised little change after the party's 12 years in government.
"Tired ideas from an exhausted Labour Party," the Times' headline said.
"He talked endlessly about change, but his overriding message was that a fourth Labour term will be little different to a third Labour term — and who wants that?" the conservative Daily Telegraph said.
Crucially, top-selling tabloid the Sun announced it was switching allegiance to the main opposition Conservatives, saying Britain "feels broken" and the Labour government was "out of excuses."
Under the frontpage headline, "Labour's lost it," the paper owned by Rupert Murdoch said it was backing the Conservatives to win the election, citing a list of Labour failures, including schools, health and the conflict in Afghanistan.
The right-wing Daily Mail said Brown did not say how the government would pay for the policies as Britain tries to follow other major economies out of recession.
"His most blatant omission was his failure to tell us where the money is to come from for his lavish commitments, when even now he admits cuts are vital," it said.
Comments will be moderated. Keep comments relevant to the article. Remarks containing abusive and obscene language, personal attacks of any kind or promotion will be removed and the user banned. Final decision will be at the discretion of the Taipei Times.