Typhoon Ketsana claims 312 across Southeast Asia
DESTRUCTION Unleashing some of the worst flooding in a decade, the storm has claimed the lives of 246 people in the Philippines, 55 in Vietnam and 11 in Cambodia
Typhoon Ketsana extended its destructive rampage through Southeast Asia yesterday, blowing away whole villages in Vietnam, Cambodia and Laos as the regional death toll rose to 312.
The storm has unleashed some of the worst flooding in a decade and left governments in the ­disaster-prone region struggling to help more than 2 million people who are either homeless or in urgent need of supplies.
"I have never seen such a strong wind in my life," Pang Phot, a police officer in Cambodia's badly hit Sandann district, said by telephone.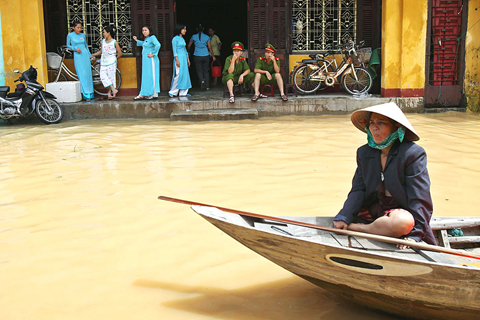 A woman awaits customers for a boat ride through the flooded streets of the UNESCO World Heritage town of Hoi An, Vietnam, yesterday.
PHOTO: EPA
Landslides buried homes and rising waters threatened ancient world heritage sites as the storm finally moved inland toward Laos and weakened to a tropical depression yesterday.
Ketsana killed 246 people in the Philippines over the weekend while still a weaker tropical storm, before strengthening into a typhoon over the South China Sea and smashing into central Vietnam on Tuesday, leaving another 55 dead.
The typhoon moved inland to lash Cambodia overnight, killing 11 more people, and caused meter-high flooding in Laos yesterday. Authorities in northeastern Thailand were also on high alert, but said there had been no damage yet.
Vietnam's flood and storm control committee listed 11 missing in addition to the 55 confirmed dead. The toll included 13 in mountainous, inland Kon Tum Province and 14 in central Quang Ngai Province, where the typhoon made landfall.
On Tuesday flooding hit parts of Danang as well as Hue, the former capital and a World Heritage site, where residents used small wooden and steel boats to move around.
The flood and storm control committee said that six coastal provinces had been evacuated, involving 168,585 people. Many areas were without power.
Vietnamese Deputy Prime Minister Hoang Trung Hai said military helicopters could be sent to join the rescue effort, adding that they would immediately evacuate households on river banks and areas likely to suffer from landslides.
In Cambodia, authorities said the homes of thousands of people had been evacuated as the storm packed winds of up to 145kph.
Nine were killed and 28 injured in central Cambodia, while two died in the northeast overnight as the country was battered by the storm, officials said. The victims included a grandmother, mother and three children in one house.
"At least nine people were crushed last night when their houses fell down," said Chea Cheat, chief of the Red Cross office in central Kampong Thom Province, adding that at least 92 houses in his province were destroyed.
In deeply impoverished and isolated Laos, five or six villages had reportedly been flooded in Savannakhet Province and aid workers were making their way there by car, aid agency World Vision said.
"We have the capability to urgently ready 500 aid packs if our assessment teams find these are needed," World Vision aid worker Vatthanathavone Inthirath said.
In the Philippines, Ketsana dumped the heaviest rains in more than four decades on Manila and surrounding areas on Saturday, submerging 80 percent of the city.
Meanwhile there were warnings that another looming typhoon may add to the devastation. Typhoon Parma was lurking to the east of the Philippines and on course to hit the country today or tomorrow.
Also See: EDITORIAL: Lessons from the Philippines
Comments will be moderated. Keep comments relevant to the article. Remarks containing abusive and obscene language, personal attacks of any kind or promotion will be removed and the user banned. Final decision will be at the discretion of the Taipei Times.