Brown proposes deal to halt nuclear arms race
'GRAND BARGAIN' The British prime minister has called for a new era of collaboration on five priority issues, including nuclear programs and the global economy
British Prime Minister Gordon Brown has backed calls for access to a uranium bank for states that renounce nuclear weapons but want to develop atomic energy.
Brown, in the US for meetings of the UN General Assembly and the G20, called for a "new era of collaboration" to tackle a range of issues from the economy to climate change. Writing in the New York Times, Brown said a new nuclear non-proliferation agreement was needed urgently.
"To this end, Britain proposes a new and comprehensive grand bargain on nuclear proliferation: access to civil atomic energy via an international uranium bank for states that renounce current or future nuclear arms, together with a reduction of nuclear weapons by nuclear weapons states," he said.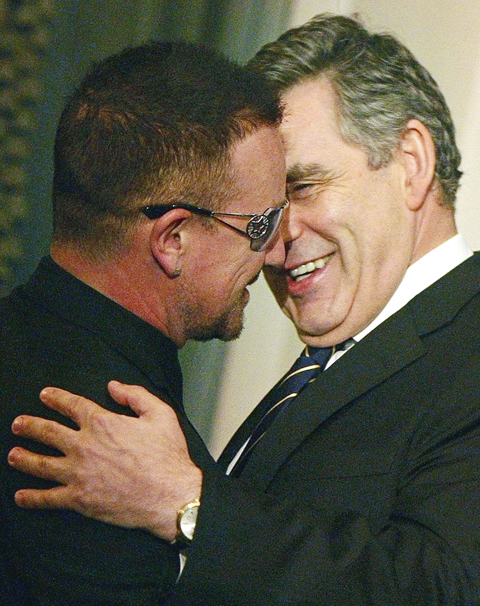 British Prime Minister Gordon Brown, right, embraces U2 singer Bono before the Appeal of Conscience reception at the UN General Assembly in New York on Tuesday.
PHOTO: REUTERS
The call echoes proposals from the head of nuclear watchdog the International Atomic Energy Agency (IAEA) for a fuel bank.
The idea has made little headway, but has been supported by US President Barack Obama and gained additional impetus from Western concerns that Iran's expanding uranium enrichment program could be used to make atomic bombs.
Brown was set to tell the UN Security Council today that Britain was not ready to give up its status as a nuclear power but was prepared to reduce the nuclear submarine fleet from four to three when they are replaced over the next 15 years.
"If we are serious about the ambition of a nuclear-free world we will need statesmanship, not brinkmanship," he will say, according to an extract from his speech provided to journalists traveling with him for this week's UN and G20 meetings.
A subcommittee, including Britain's relevant government ministers, the chiefs of staff and the heads of the intelligence agencies, are expected to be instructed to come forward with detailed recommendations by the end of the year.
The future of Britain's nuclear arsenal has become a hot topic of debate in recent weeks as concerns over the country's public finances have escalated — borrowing has soared as tax revenues have plummeted during the recession and spending has escalated to pay for unemployment benefits and the bailout of the banks.
The nuclear issue was one of five priorities for the international community that Brown was to highlight in his UN speech, together with the economy, climate change, terrorism and poverty.
Turning to the economy in his New York Times piece, Brown said the world's leading nations must deliver on expansionary measures designed to drag the global economy out of the deepest recession in decades.
"The world has to decide whether to stay the course and deliver the promised fiscal stimulus this year and in 2010," he wrote.
"We need a clear commitment from the Group of 20 on a global compact to provide a framework for jobs, growth and stability over the medium to long term — one that perhaps even includes objectives for global growth," he wrote.
Meanwhile the foreign ministers of the so-called E3+3 group of Britain, France and Germany, plus the US, Russia and China were to meet yesterday, ahead of talks next week with Iran aimed at persuading it to give up any ambitions to construct nuclear weapons.
Comments will be moderated. Keep comments relevant to the article. Remarks containing abusive and obscene language, personal attacks of any kind or promotion will be removed and the user banned. Final decision will be at the discretion of the Taipei Times.