US wants to be 'partner, not patron' of Africa: Clinton
The US yesterday called on Africans to take the lead in stamping out corruption and crime, with Secretary of State Hillary Clinton warning that bad governance was holding the continent back.
Clinton launched a wide-ranging Africa tour with a keynote speech in Kenya, whose favorite son — US President Barack Obama — underscored the message in a surprise video.
"Only Africans can unlock Africa's potential," Obama said, returning to a theme of good governance he made on his first presidential visit to the continent last month in Ghana.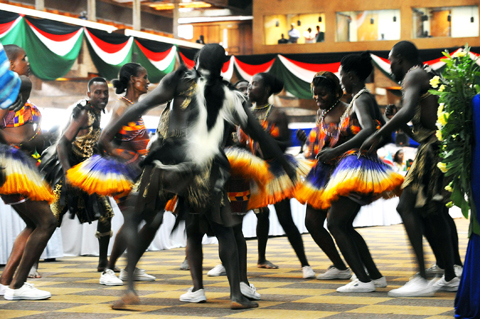 Kenyan dancers perform for the attendees of the Eighth Forum of the African Growth and Opportunity Act (AGOA) in Nairobi yesterday. US Secretary of State Hillary Clinton attended the forum during her visit to the area. She will seek to build ties with three African powers — Kenya, Nigeria and South Africa — and show support for three nations recovering from conflict — Angola, the Democratic Republic of Congo and Liberia — while also stopping in small US ally Cape Verde.
PHOTO: AFP
"To all Africans who are pursuing a future of hope and ­opportunity, know this: You have a partner and a friend in the United States," said Obama, whose father was born in Kenya.
Clinton, addressing a forum of some 40 nations that enjoy preferential access to the US market, said the US sought to be a "partner, not patron" of the continent.
Clinton said that the US was committed to supporting Africa, including by boosting investment and stepping up aid to agriculture to fight hunger.
But she warned that "leaders have to lead."
"True economic progress in Africa will depend on responsible governments that reject corruption, enforce the rule of law and deliver results for their people," Clinton said.
"This is not just about good governance — it's also about good business," said Clinton, who arrived in the region on Tuesday.
The 11-day trip, which comes just three weeks after Obama visited the continent, is Clinton's longest since she became the top US diplomat six months ago and her first to sub-Saharan Africa.
Clinton, accompanied by Trade Representative Ron Kirk and Agriculture Secretary Tom Vilsack, said she sought not to lecture but to share with Africa the "benefits of the mistakes" from the US.
"Creating a favorable investment climate also requires countries to translate politics into governing," she told the forum, which was attended by Kenyan President Mwai Kibaki and Prime Minister Raila Odinga.
Her remark was a thinly veiled reference to Kenya, a top Washington ally on the continent but the target of criticism over its failure to implement a power-sharing deal that ended a cycle of deadly electoral violence last year.
After her speech, Clinton was to head into a rare joint meeting with the two leaders. An aide said she would press them to fully implement the deal, which includes the creation of a special tribunal.
Kibaki and Odinga, in separate speeches to the gathering, acknowledged the problems in African economies but appealed to the US to step up investment.
Comments will be moderated. Keep comments relevant to the article. Remarks containing abusive and obscene language, personal attacks of any kind or promotion will be removed and the user banned. Final decision will be at the discretion of the Taipei Times.