Thousands 'disappeared' in China unrest: Kadeer
10,000 MISSING: World Uighur Congress leader Rebiya Kadeer accused Chinese police of randomly shooting people after dark during the unrest early this month
Exiled Uighur leader Rebiya Kadeer said yesterday that nearly 10,000 people "disappeared in one night" during ethnic unrest in the Chinese city of Urumqi early this month.
"Close to 10,000 people in Urumqi disappeared in one night. Where did those people go?" she said in Japan, speaking in her native language through a translator. "If they died, where did they go?"
Kadeer, the 62-year-old US-based head of the World Uighur Congress, charged that "the Chinese government is trying to destroy the Uighur people. I want to tell the international community about our situation."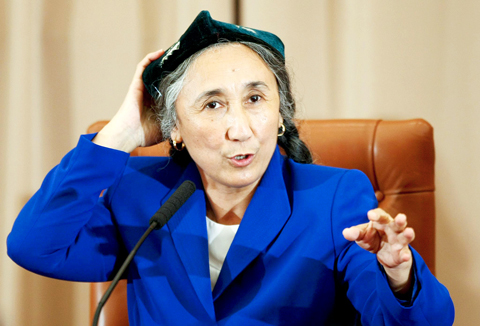 Rebiya Kadeer, Uighur activist and the president of the World Uighur Congress, fixes her hat as she speaks during a press conference at the Japan National Press Club in Tokyo yesterday.
PHOTO: EPA
Citing local sources she had been in contact with, Kadeer said during the unrest from July 5, Chinese police randomly shot people after dark when the electricity went out, and that the next morning people awoke to find many Uighur men had disappeared.
Beijing accuses the mother of 11 and grandmother of being a "criminal" who instigated the unrest pitting Uighurs against Han Chinese in Xinjiang, which the government says left 197 people dead.
"I was not involved in the incident," she told the press conference. "If China says I did it, I want them to show evidence. If the international community judges it as evidence, I would acknowledge that."
Kadeer instead charged that "the responsibility lies with the authorities who changed what was a peaceful demonstration into a violent riot."
"For Uighurs, taking part in demonstrations is like committing suicide," she said.
The Chinese foreign ministry on Monday expressed its "strong dissatisfaction" with Japan for allowing entry to Kadeer, who spent around six years in a Chinese prison before being released under US pressure in 2005.
Japan's top government spokesman, Takeo Kawamura, said on Tuesday that Kadeer's visit "was organized by civil groups, not an event by the government."
"We don't consider that her visit to Japan itself will negatively impact the Japan-China relationship," Kawamura told a regular press briefing.
Beijing has also campaigned for other countries to deny Kadeer a platform.
In Washington, Chinese Vice Foreign Minister Wang Guangya (王光亞) said on Tuesday that Beijing had asked Washington to "restrain and prevent" anyone from using its soil to conduct "separatist activities against China."
Kadeer said she was "perplexed and disappointed" by the US response to ethnic unrest in China this month.
"The response of the United States has been somewhat cold," she said. "I am perplexed and disappointed."
She added, however, that "I do not believe the United States will remain quiet. I believe it will respond in an appropriate way."
Comments will be moderated. Keep comments relevant to the article. Remarks containing abusive and obscene language, personal attacks of any kind or promotion will be removed and the user banned. Final decision will be at the discretion of the Taipei Times.