No option off the table on Iran: Israel
REPETITION: To make sure Washington and Tehran got the message, Defense Minister Ehud Barak repeated his remark three times as his US counterpart stood by his side
Israel's defense minister told visiting US Secretary of Defense Robert Gates yesterday that his country is taking "no option" off the table on Iran's nuclear program, indicating that a military strike is still a possibility even as Washington tries to persuade Israel to give diplomacy more time.
"This is our position. We mean it," Defense Minister Ehud Barak said, standing alongside Gates.
But Barak also said diplomacy should be the current priority.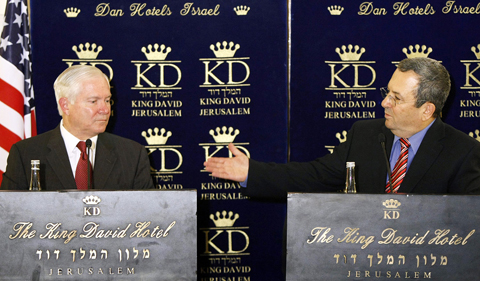 US Secretary of Defense Robert Gates, left, and Israeli Defense Minister Ehud Barak hold a joint news conference after their meeting in Jerusalem yesterday.
PHOTO: REUTERS
Gates's visit to Israel was partially aimed at dissuading Israel from taking any military action and buying time for US diplomacy to bear fruit.
However, Barak's no-options-off comment — repeated three times — seemed to indicate Gates made no visible headway in getting Israel to soften its line.
Still, the comments did not signal a major rift with the US, which has also said there is a time limit for its diplomatic outreach. Israel has shown little enthusiasm for a global diplomatic effort that so far has failed to persuade Tehran to curb its nuclear program.
The US and Israel believe Iran is attempting to develop atomic weapons. Israel sees a nuclear-armed Iran as an existential threat, particularly in light of bellicose comments from Iranian President Mahmoud Ahmadinejad and Tehran's support for violent anti-Israel militant groups.
Iran says its nuclear program is exclusively aimed at producing electricity.
Acknowledging Israel's concerns, Gates said the US administration's attempt to engage Iran was "not an open-ended offer" and that the US was aware Iran might try to "run out the clock."
"We will deal with the situation at the appropriate time," Gates said, saying he hoped Iran would respond by the UN General Assembly this fall.
He said sanctions were a possibility if diplomacy fails, while also mentioning plans for a loosely defined "defense umbrella" meant to protect US allies in the region.
"We will continue to ensure that Israel has the most advanced weapons for its national defense," he said.
Israeli leaders have repeatedly expressed skepticism that diplomacy could work with what they see as a hostile, anti-Western theocracy in Iran.
Barak said he hoped diplomacy would succeed, but urged the US to set a short deadline and prepare hard-biting financial sanctions against Iran.
"Israel remains in its basic position that no options should be removed from the table, even though priority at this stage should be given to diplomacy," he said.
Israeli officials have said little about what military action they might have in mind. But the country has conducted a number of military exercises widely seen as possible preparations, including long-range air force maneuvers and recent movement of Israeli warships and submarines through the Suez Canal, the quickest route to the Persian Gulf from Israel.
Last week, US and Israel conducted a joint missile-defense test off the coast of California designed to protect against a possible Iranian strike on Israel. The test failed, though Israeli officials characterized it as a minor setback.
Comments will be moderated. Keep comments relevant to the article. Remarks containing abusive and obscene language, personal attacks of any kind or promotion will be removed and the user banned. Final decision will be at the discretion of the Taipei Times.