US worried about N Korea-Myanmar nuclear links
The US is concerned about the possible transfer of nuclear technology from North Korea to Myanmar, US Secretary of State Hillary Clinton said yesterday.
Clinton's comments, during a visit to Bangkok, came ahead of a regional security meeting in the Thai resort of Phuket, where the most contentious topics will likely be Pyongyang's nuclear program and how to promote democracy in Myanmar.
"The threat that I have always worried about first and foremost is the proliferation of nuclear weapons and weapons of mass destruction," Clinton said in a TV interview in Bangkok to be broadcast later.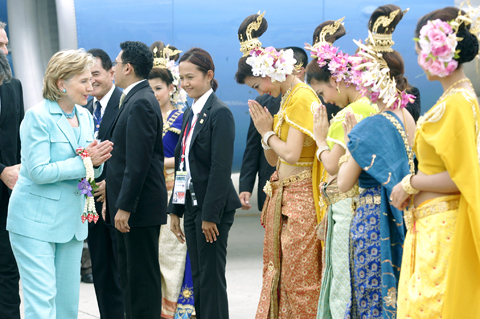 US Secretary of State Hillary Clinton, left, is greeted by Thai women in traditional dress as she arrived for the ASEAN Regional Forum in Phuket, Thailand, yesterday.
"So obviously we are very concerned about North Korea and recent reports about perhaps their dealings with what we call Burma," she said.
Talk of Myanmar-North Korea military ties was fueled after a North Korean ship, tracked by the US last month and this month on suspicion of carrying banned arms, appeared headed toward Myanmar before turning around.
North Korea has a long history of arms proliferation and US officials believe it helped Syria build a nuclear reactor that was destroyed by Israeli bombers in 2007.
On Tuesday, Clinton said she was worried about the possibility of military links between the two countries, both regarded as pariahs in the West.
She said such military cooperation would pose a direct threat to Myanmar's neighbors. Both North Korea and Myanmar are represented at the Phuket talks, although Pyongyang has only sent a low-level delegation.
Clinton was expected to consult regional players later yesterday in Phuket about giving North Korea a choice between tighter sanctions if it pursues its nuclear program and wider incentives if it abandons them, US officials said.
She plans separate meetings with the foreign ministers of China, Japan, Russia and South Korea to plot strategy on how to persuade North Korea to give up its nuclear ambitions.
Those talks precede Asia's biggest annual security gathering, the ASEAN Regional Forum, which takes place today.
In the last two months North Korea has conducted its second nuclear test, test-fired seven ballistic missiles and boycotted talks on ending its nuclear program.
Comments will be moderated. Keep comments relevant to the article. Remarks containing abusive and obscene language, personal attacks of any kind or promotion will be removed and the user banned. Final decision will be at the discretion of the Taipei Times.