Israel rejects US call to halt housing project
Israel yesterday rejected a US demand to suspend a planned housing project in east Jerusalem, threatening to further complicate an unusually tense standoff with its strongest ally over settlement construction.
Israeli officials said the country's ambassador to Washington, Michael Oren, was summoned to the State Department over the weekend and told that a project being developed by a US millionaire should not go ahead.
Yesterday, Israeli Prime Minister Benjamin Netanyahu told his Cabinet there would be no limits on Jewish construction anywhere in "unified Jerusalem."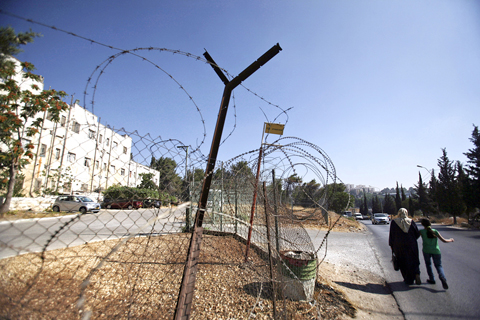 Palestinians walk next to the Shepherd Hotel in east Jerusalem yesterday. The US has demanded that Israel suspend a planned housing project on the grounds of the hotel, senior Israeli officials said yesterday.
PHOTO: AP
SOVEREIGNTY
"We cannot accept the fact that Jews wouldn't be entitled to live and buy anywhere in Jerusalem," Netanyahu declared, calling Israeli sovereignty over the entire city "indisputable."
The international community considers Jewish neighborhoods in east Jerusalem to be settlements and an obstacle to Israeli-Palestinian peacemaking. Israel does not regard them as settlements because it annexed east Jerusalem in 1967 after capturing it in June of that year.
East Jerusalem is an especially volatile issue because it is the site of key Jewish, Christian and Muslim holy sites. The Palestinians want the traditionally Arab sector of the city to be the capital of their future state.
Army Radio said the US has demanded that planning approval for the project be revoked.
Spokesmen for the US Embassy and the Jerusalem municipality had no comment.
Settlements have emerged as a major sticking point in relations between Israel and Washington under the administration of US President Barack Obama.
The Palestinians have been encouraged by Washington's insistence that Israel freeze all settlement construction on lands in east Jerusalem and the West Bank that the Palestinians claim for a future state.
Nearly 300,000 Israelis live in West Bank settlements, in addition to about 180,000 Israelis living in Jewish neighborhoods in east Jerusalem.
INDEPENDENCE
The Palestinians say the Israeli presence makes it increasingly difficult to establish an independent state in these areas.
They have refused to restart peace talks until Israel halts all settlement expansion, something the Israeli government has refused to do.
The east Jerusalem project is being developed by Irving Moskowitz, an influential supporter of Israeli settlement in east Jerusalem who purchased the Shepherd Hotel in 1985 and plans to tear it down and build apartments in its place.
The hotel is located close to a government compound that includes several government ministries and the national police headquarters.
Comments will be moderated. Keep comments relevant to the article. Remarks containing abusive and obscene language, personal attacks of any kind or promotion will be removed and the user banned. Final decision will be at the discretion of the Taipei Times.