Honduran rivals agree to continue settlement talks
SEVEN-POINT PROPOSAL The two sides were to meet yesterday to discuss Manuel Zelaya's return to power, a general amnesty and expedited elections
The rival parties in the Honduran political conflict have agreed to continue searching for a negotiated solution yesterday, after Costa Rican President Oscar Arias proposed a detailed plan for settling the three-week-old crisis.
Arias, who is mediating the Honduras crisis talks, proposed on Saturday that ousted Honduran president Manuel Zelaya return to the country under the terms of a national reconciliation plan, but delay the move at least until next Friday.
Zelaya has accepted the delay, his spokeswoman said.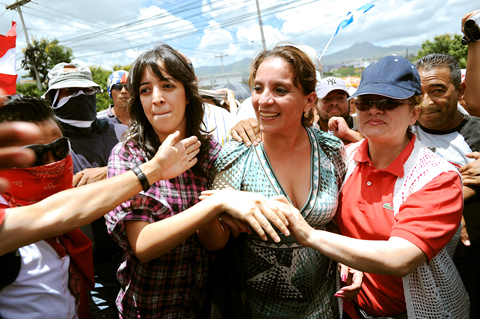 Xiomara Hortencia Zelaya, left, and Xiomara de Zelaya, center, daugther and wife of ousted Honduran president Manuel Zelaya, join his supporters in a protest in Tegucigalpa on Saturday. Honduras' military was on alert yesterday for a possible attempt by the ousted leader to return to his country as talks between his aides and the de facto government were held in Costa Rica.
PHOTO: AFP
Arias, a Nobel Peace Prize winner, made the suggestion to representatives of the deposed leader and de facto Honduran president Roberto Micheletti at talks under way in San Jose.
He said the two sides were to meet again yesterday after attending mass.
"We have agreed to continue deliberations tomorrow," the Costa Rican leader told reporters. "We will meet again at 11am."
The seven-point proposal envisions Zelaya's return to power at the head of a government of "national reconciliation," and the declaration of a general amnesty absolving those who participated in and opposed his June 28 ouster.
Arias' proposal would also see presidential elections moved up to November, with control of the army transferred to the Supreme Electoral Tribunal a month before so military forces could "guarantee a transparent and smooth voting process."
But Micheletti has repeatedly expressed his strong opposition to Zelaya's return or the possibility of the deposed leader serving out the remainder of his term until Jan. 27.
Arias' proposal would also require Zelaya to "expressly renounce" plans to hold consultative votes seeking to gain support for constitutional changes to terms limits.
His attempts to shore up support for changes to the Constitution was the precipitating factor in his arrest and expulsion from Honduras by the country's military last month.
The Costa Rican leader acknowledged that "many differences" continued to keep the sides apart and that the parties will have to show "flexibility to bring themselves closer" to agreement.
A diplomatic source told reporters the delegations continue to remain apart on the issue of Zelaya's return.
US officials have already warned that any attempt to return could jeopardize negotiations between his and Micheletti's representatives.
"Tensions are very high," US State Department spokesman Robert Wood said in Washington.
Zelaya tried two weeks ago to enter Honduras on a Venezuelan jet but was prevented from landing at the main airport by Honduran military vehicles parked on the runway.
Zelaya's strongest ally, Venezuelan President Hugo Chavez, said the ousted head of state would be restored to power.
"Zelaya is going to enter Honduras. Let's see what those thugs do," Chavez said, referring to Micheletti's government.
Rumors have swirled that Zelaya might try to cross over into Honduras by land from Nicaragua, possibly with Venezuelan or Nicaraguan military units.
But Rixi Moncada, a spokeswoman for Zelaya, said the ousted Honduran leader had accepted Arias' plea for a delay.
"We have have accepted Friday, July 24, as the day when Zelaya should return to the republic," Moncada said.
Meanwhile, protestors in Tegucigalpa blocked roads on Saturday, including some around the capital. Some 2,000 filled a southern boulevard, yelling: "What's our president's name? Manuel Zelaya!"
In the north, altercations between opposing groups of demonstrators resulted in violence that left several protestors with minor injuries.
Honduras' military was placed on the alert.
Comments will be moderated. Keep comments relevant to the article. Remarks containing abusive and obscene language, personal attacks of any kind or promotion will be removed and the user banned. Final decision will be at the discretion of the Taipei Times.