Japan minister quits over row
CONFLICT Kunio Hatoyama quit as internal affairs and communications minister as a Cabinet row over Japan Post intensified, dealing a blow to Prime Minister Aso
Japanese Internal Affairs and Communications Minister Kunio Hatoyama, a close ally of Prime Minister Taro Aso, resigned yesterday, in a blow to Aso ahead of a looming election.
Hatoyama had insisted that Yoshifumi Nishikawa, president of Japan Post, should be replaced, though many in the ruling party have said Nishikawa should stay in his job, creating a dilemma for Aso in recent weeks.
"It is hard for the public to understand why the row has become such a big issue," said political commentator Akira Hayasaka, adding that the internal row within the Cabinet gives a negative impression of Aso's government.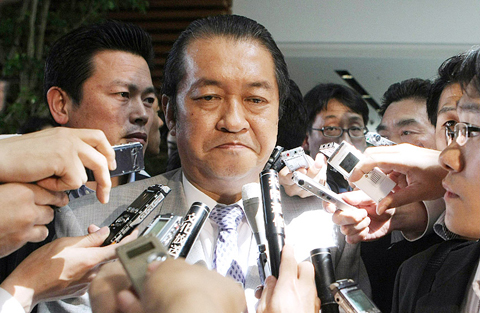 Japanese Internal Affairs and Communications Minister Kunio Hatoyama, who resigned yesterday, is surrounded by reporters in Tokyo.
PHOTO: AFP
"It will be a minus for his party ahead of the election," he said.
Hatoyama had said Nishikawa should go because of Japan Post's attempt to sell its nationwide resort complex to leasing company Orix Co, whose chairman helped craft a government plan to privatize the postal system.
The move would end the row over the personnel issue. But it would be a blow to the unpopular prime minister after opposition parties have criticized Aso for a lack of leadership in failing to solve the problem quickly.
Aso's Liberal Democratic Party (LDP) faces a tough battle in a general election due by October, with the main opposition Democratic Party now leading in voter polls.
An opposition victory would end half a century of almost unbroken rule by the conservative LDP.
In a Yomiuri Shimbun poll on Monday, 39.1 percent of respondents said they would vote for the Democrats, compared with 28.7 percent who preferred the LDP.
Japan Post was broken up into four state-owned firms in 2007 as the first step in a 10-year privatization process driven by former Japanese prime minister Junichiro Koizumi.
Stakes in two of the four units, one for banking and one for insurance, are to be sold by 2017. But as the ruling party drifts away from Koizumi's reforms, Aso's government has suggested aspects of the plan should be reviewed.
It would not be the first time an Aso ally has had to leave the Cabinet. In February, Shoichi Nakagawa resigned as finance minister after being forced to deny he was drunk at a G7 news conference.
Support for Aso, Japan's third prime minister in less than two years, fell below 30 percent in a poll by public broadcaster NHK this week after he flip-flopped on policy and had a public row with Hatoyama, even as the economy struggles with its deepest recession in decades.
Comments will be moderated. Keep comments relevant to the article. Remarks containing abusive and obscene language, personal attacks of any kind or promotion will be removed and the user banned. Final decision will be at the discretion of the Taipei Times.