Mexico arrests cartel kingpin as US officials visit
Mexico dealt a blow on Thursday to the country's murderous drug cartels, arresting a notorious kingpin just hours before the arrival of US officials for a strategy session on the fight against traffickers.
Authorities nabbed Vicente Carrillo Leyva, who is believed to control numerous drug trafficking routes into the US, just hours before top security officials frosm the US were set to hold talks with their Mexican counterparts on the drug and arms trafficking in the central Mexican city of Cuernavaca.
US Homeland Security Secretary Janet Napolitano and Attorney General Eric Holder were to meet with Mexican Attorney General Eduardo Medina-Mora and Interior Minister Fernando Gomez-Mont in Jiutepec, Mexico — the latest in a string of high-level visits by US officials culminating in a visit by US President Barack Obama later this month.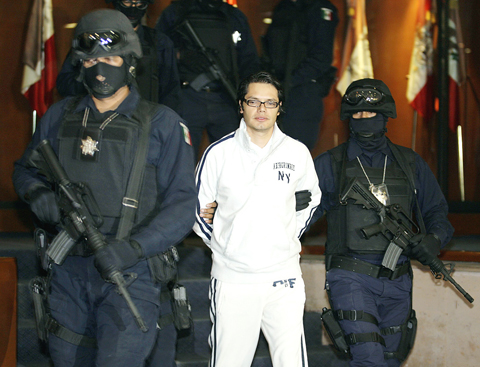 Suspected Mexican drug trafficker Vicente Carrillo Leyva is presented to the media in Mexico City on Thursday.
PHOTO: REUTERS
Obama and US Secretary of State Hillary Clinton, who visited Mexico last week, have promised to help their southern neighbor's fight against drug trafficking and violence that has spilled over the US border by tackling the US demand for drugs and supply of weapons to Mexico.
The visit by Holder and Napolitano comes a day after the US Senate approved a US$550 million package to stop the southward flow of guns and money to cartels from US sources.
And in another show of support against the drug cartels, Obama last week announced extra agents for the southern US border and vowed to staunch narcotics demand.
Carrillo Leyva, who used a false name and passed himself off as a businessman, "was spotted in Mexico City exercising in a park near his home," police commissioner Rodrigo Esparza said.
The 32-year-old suspect was presented to the media wearing a white tracksuit.
He is the son of legendary Juarez cartel kingpin Amado Carrillo Fuentes — who died during plastic surgery to change his appearance in 1997.
His Juarez cartel — named after Mexico's most violent city of Ciudad Juarez on the US border — is one of the major drug gangs involved in bloody feuds over lucrative trafficking routes into the US.
Carrillo's capture came after the government last week offered a reward of US$2 million for information leading to his capture.
Comments will be moderated. Keep comments relevant to the article. Remarks containing abusive and obscene language, personal attacks of any kind or promotion will be removed and the user banned. Final decision will be at the discretion of the Taipei Times.