Red Cross hostages fear for their lives in the Philippines
One of three Red Cross workers held by Muslim militants said she feared for her life after captors set a deadline to behead one of them and Philippine troops rejected a demand to pull out of southern jungles.
"Time is running out," Filipina Mary Jean Lacaba said in a cellphone interview with ABS-CBN television late on Wednesday, as she appealed to the Philippine government to act quickly to end the two-and-one-half-month-old hostage crisis.
Lacaba said she and her two European colleagues from the International Committee of the Red Cross — Swiss Andreas Notter and Italian Eugenio Vagni — were afraid for their lives "every minute, every second because we don't know when a firefight will suddenly start."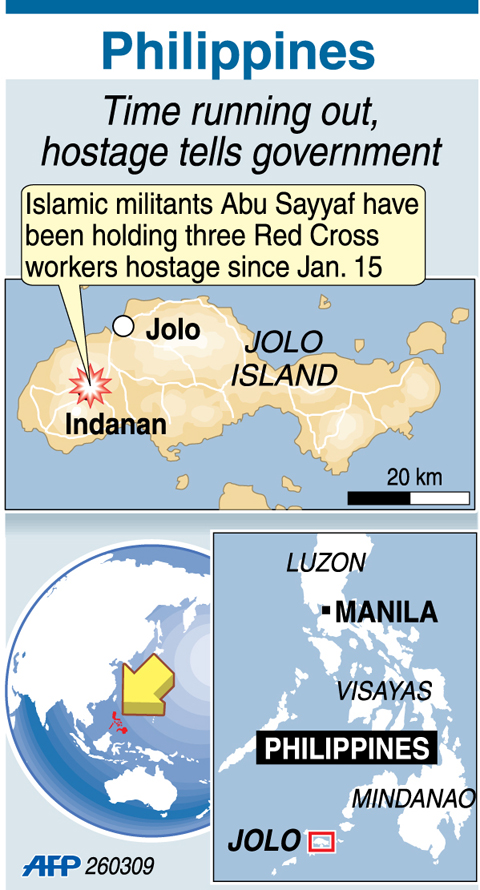 Their ordeal entered a critical stage this week after Abu Sayyaf commander Albader Parad threatened to behead one of the hostages if troops did not withdraw from the group's jungle stronghold near Indanan town on Jolo island.
Jolo Governor Abdusakur Tan said the militants told an emissary that the deadline for the troops to withdraw to Jolo town was Tuesday. But the military rejected the ultimatum, saying the gunmen could not be trusted.
The militants had already reneged on an earlier pledge to free a hostage last week after nearby troops complied with their initial demand to move back, General Alexander Yano said.
Parad, in the same interview with ABS-CBN television, repeated his earlier promise to free a hostage if troops pull back farther away — or behead one if they don't: "They know I do what I say."
Lacaba said the hostages heard bullets and explosions just above their heads last week after marine snipers fired at the militants trying to breach a loose military cordon, sparking two days of clashes that killed three marines and up to seven guerrillas.
Comments will be moderated. Keep comments relevant to the article. Remarks containing abusive and obscene language, personal attacks of any kind or promotion will be removed and the user banned. Final decision will be at the discretion of the Taipei Times.